Published on February 8, 2022
Climate Tech Investing: The Growing Role of Venture Capital and Private Equity
Climate change and global warming continue to be pressing issues in our society, with pressure being added each year to reduce greenhouse gas ("GHG") emissions. Global leaders are increasingly looking to technology to help achieve their climate goals. The advent of new electric vehicles is one way to curb emissions, but according to experts, it merely scratches the surface of what technology can do for climate change.
Climate technology development has been largely funded by private markets, according to a recent study by PwC. Private sector spending, particularly within private equity and venture capital, is creating opportunities for investors to generate returns while also giving back. We'll discuss the types of climate technologies available, trends with climate technology investing, and the role of venture capital within the space.
Defining Climate Technology
Climate technology is described as technologies that are specifically aimed at lowering GHG emissions or mitigating the effects of global warming.
Climate technology applications can be divided into three major categories, each with its own set of requirements:
Directly reduce or eliminate emissions
Assist us in adjusting to the effects of climate change
Improve our understanding of climate change.
There are 6 main verticals within climate tech that have the goal of either GHG capture, removal, and storage or climate change management and reporting according to PwC:
Mobility and transport: ex. Batteries/fuel cells, low GHG transport, low GHG air transport, efficient transport systems
Energy: ex. Alternative fuels, waste heat capture/storage/conversion, renewable energy generation, grid management
Food, agriculture, and land use: ex. alternative food + proteins, land use management, vertical + urban farming
Industry, manufacturing, and resource management: ex. industrial residuals management, efficient manufacturing, low GHG extraction, supply + maintenance
Built environment: ex. high efficient lighting, building level storage, commercial + residential residuals management
Financial services: ex. Banking (business + retail), lenders, pensions, funds, portfolios + investment banking
Trends in Climate Technology Investing
Experts note the rise of climate tech investment as a new asset class. Total spending for the sector reached $87.5B, as recorded from June 2020 to June 2021. The investment pace for the first six months of 2021 doubled from 2020, reaching over $60B. Along with record spending, the sector has seen deal sizes in H1 2021 nearly quadruple from 2020, rising from $27M in 2020 to $96M in 2021.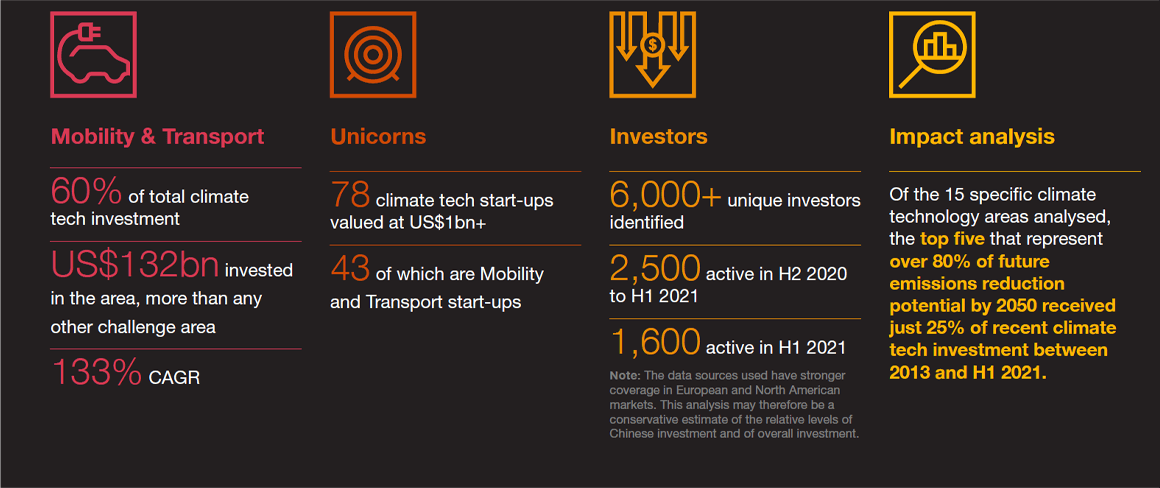 Source: PwC, December 2021. State of Climate Tech 2021.
In a report published by PwC on the state of climate tech, the firm notes that although spending is reaching record levels, the dollars are concentrated in certain areas. Mobility and transportation received about 60% of total climate tech investment, among which are electric vehicles and lower GHG emission vehicles that saw the bulk of proceeds reaching $33B in funding from H2 2020 to H1 2021. Industry, manufacturing, and resource management saw its investment size increase four-fold from 2020 to 2021.
While experts are excited to see investment grow within climate tech, the proceeds are missing some key areas to address climate change. The five sectors: solar power, wind power, food waste technology, green hydrogen production, and alternative foods/low greenhouse gas proteins reportedly received a quarter of climate tech investment between 2013 to Jun. 2021, despite representing over 80% of the emissions reduction potential by 2050.
"Technology is not the answer, it's the amplifier of intent, and climate tech alone is not the panacea, but it's a space that is emerging rapidly as a critical mechanism to bend the emissions curve down and get us back on track towards 1.5 degrees," said Leo Johnson, Partner, PwC UK.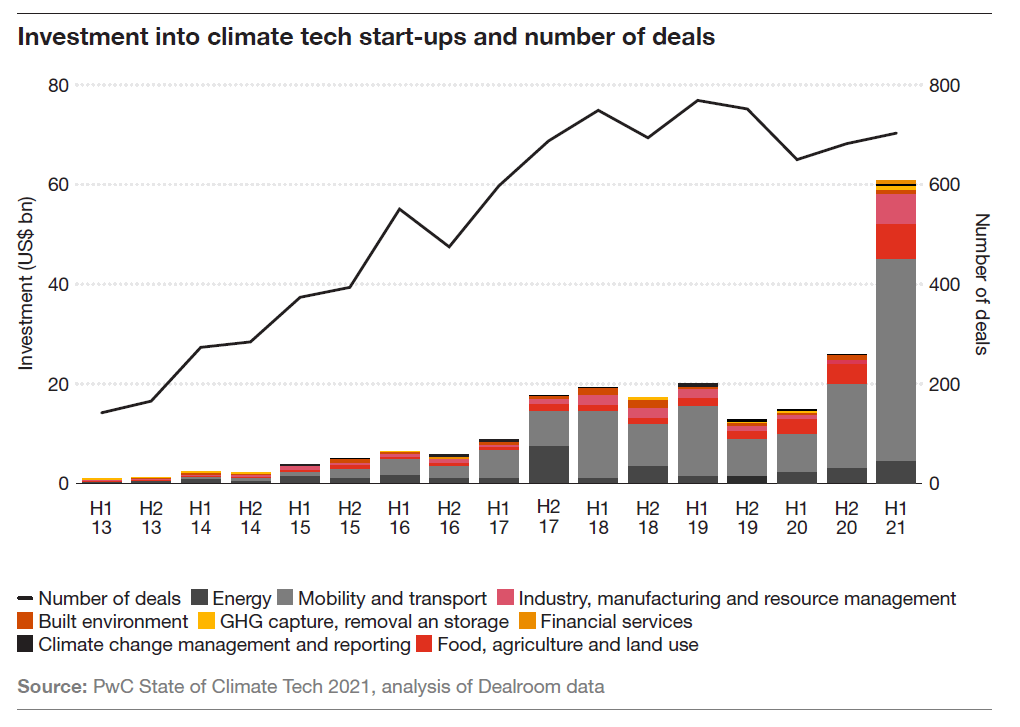 Role of Private Capital in Climate Technology Investing
Ion Yadigaroglu, General Partner of the Capricorn Technology Impact Fund, comments on the role of venture capital in the innovation of climate technology. Historically, venture capital has been an avenue for fledging companies to take risks with emerging technologies and pursue innovation in ways that huge corporations cannot. CEOs at Fortune 500 companies are subject to short-term horizons, which means their focus is typically on incremental growth, cost reductions, and other "market-driven" demands versus the development of disruptive technology. Since venture capital comes with long time horizons, spanning over 10 years in some cases, it is a more appropriate source of funding.
Sophie Purdom, the cofounder of Climate Tech VC, a newsletter that tracks climate tech investing, notes, "we're seeing more generalist investors, even private equity firms like TPG, General Atlantic, coming into the space." According to Purdom, "three verticals alone—energy, mobility, food and water—are going to be driving a lot of how we think about the next couple of decades and change the fundamental infrastructure of how our planet has been built today, to combat and mitigate the forces of climate change."
However, while private market funds can be used to support climate tech innovation, the amount raised of $87B is a fraction of the $100B needed in climate finance per year by each developed country to achieve net-zero by 2050. Yadigaroglu estimates more than $30T, roughly 10% of all the investable capital in the world, needs to be funneled in the next decade to climate technology to meet our climate goals.

Source: PitchBook, December 2021. PitchBook Analyst Note: Archetypal Investing into Climate Tech.
Investing in climate technology is paramount to solving the climate change crisis. As noted by Pitchbook's analysis, "Aa new industrial revolution will be required to avoid a climate disaster, for which around half of the needed technology either doesn't exist yet or is too expensive for widespread use," says Bill Gates. BCG reports that roughly a third of the technology needed to combat climate change has not been created. The level of development needed for the sector can prove to be costly, as companies need to, on a trial-and-error basis, find technology that will not only reduce GHGs but also be sourced responsibly. Unfortunately, the costs associated with the development fall on investors, which can hurt future returns, given the risk in developing these new, innovative technologies.
Sources:
Tech Crunch, November 2021. VC has a pivotal role to play in the climate fight, but it can't do everything.
Fast Company, December 2021. Climate tech got an enormous cash infusion in 2021.
UN Climate Change Conference UK 2021, January 2022. COP26 Goals.
PitchBook, December 2021. PitchBook Analyst Note: Archetypal Investing into Climate Tech.
Conclusion
Climate change remains a pressing challenge for society to overcome. The goals set by world leaders at COP26 underscore the need for immediate action to achieve net-zero emissions by 2050. Climate technology is currently being used as an avenue for helping reach those goals, but further development is needed. Private investors are stepping in to assist in the development of these new technologies, analyzing and measuring both the investment risk and climate risk, to opportunistically participate in climate tech investment which could help achieve our planet and investors' portfolio goals.
Learn which institutional private equity and hedge funds on our platform are seeking opportunities in climate tech companies and how your clients can participate.
For financial advisors only.