Published on October 18, 2023
The Homeowners' Insurance Crisis in Florida and California
Florida property values soared by $160 billion in the one-year period beginning in June 2022. This boom has powered Florida to pass New York as the second most valuable housing market, sitting only behind California, according to research conducted by Zillow.1 These housing markets have high valuations in common but also have a common headwind, a looming homeowners' insurance crisis. Due to worsening climate and natural disaster-related risks and rising building costs, some of the nation's largest insurers, like State Farm, Allstate, and Progressive, are actively pulling out of Florida and California.2 Insurers have pointed at increasing reinsurance costs and lawsuits from policyholders; homeowners have been looking to lawmakers to pass legislation; and quietly, hedge funds have moved into the reinsurance industry to provide risk transfer service and generate a diversified return stream.
Top 10 Most Valuable States
Florida now boasts the nation's second most valuable residential real estate.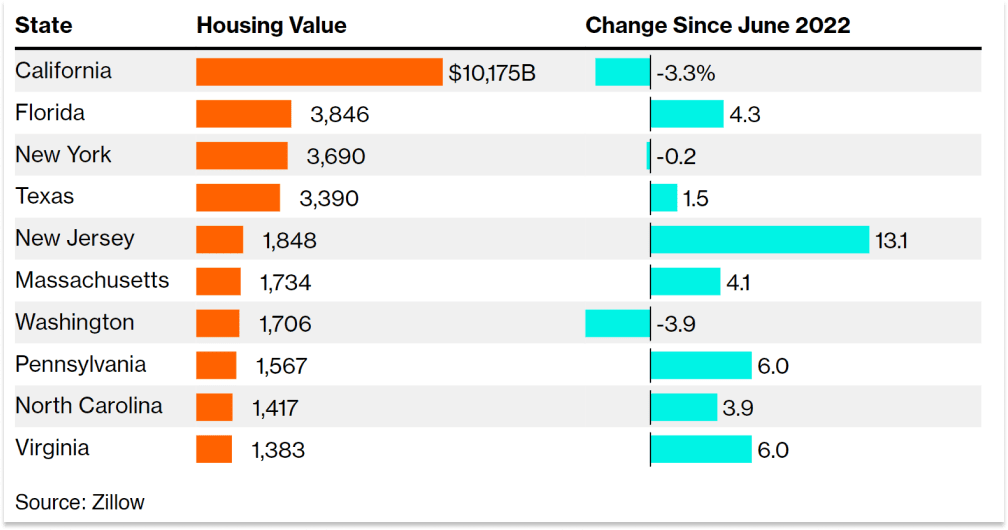 Source: Florida Tops New York as Second-Biggest US Housing Market, Zillow Says - Bloomberg
The Homeowners' Insurance Crisis
The retreat of homeowners' insurers out of Florida and California has caused homeowners' insurance premiums to skyrocket. In Florida, insurance on a $250,000 home costs nearly $2,000, while the national average is $1,428. In California, insurers have been working to get approval for rate increases greater than 20%. Even with the increased costs, insurers have been retreating from these high-priced but high-risk states.2
While some insurers have been reluctant to offer one specific reason for withdrawing from these states, Allstate cited the climate risk in California as a critical factor in their decision-making. In Florida, this trend has been around for a while. Over the past two years, eight small insurers have gone bankrupt in the state.5 This has caused many to question why lawmakers have not worked harder to address the looming homeowners' insurance crisis.
Experts like Daniel Schwarcz, a professor at the University of Minnesota Law School who specializes in insurance, reasoned in an interview with the New York Times that "A lot of insurers have been losing a lot of money in Florida, and they've been threatening to leave for years."
Reinsurers Role
Some experts believe that the true cause of the homeowners' insurance crisis is the reinsurance (or risk transfer) industry.2 Reinsurers sell insurance to insurance companies to help them de-risk their overall portfolio. Insurance companies rely on reinsurers to spread their overall risk, allowing them to sell more policies overall. Insurance companies pay premiums to the reinsurers in a similar manner to how policyholders pay premiums to the insurance companies.3
So, while reinsurers allow insurance companies to scale and take on many policies, their rates directly impact insurance companies' overall costs, and in Florida, reinsurance rates have increased 30-50% in 2023 alone.4 This most recent increase in reinsurance rates seems to be the final straw for many insurers who have reportedly not made a profit underwriting in Florida since 2016 according to the Insurance Information Institute.1
In Florida, there is a state-backed reinsurer that provides risk transfer for insurers still operating in the state as well as a state-run hurricane catastrophe fund that can provide reinsurance at a relatively low cost, but despite this, state-backed resources, the homeowners' insurance crisis persists.
Regulation
Some industry experts and lawmakers have considered that further regulation is necessary. Currently, most insurers operate like utilities needing approval to change their rates, but the private reinsurers do not have the same level of oversight.
Maybe not a solution, but a step in the right direction, is that Florida lawmakers passed legislation to limit lawsuits against insurers. This legislation has made Florida marginally more appealing for reinsurers, hoping to bring in more competition and in turn, lower reinsurance rates.4
California has yet to settle on any one policy response to its homeowners' insurance crisis. "We just couldn't find that sweet spot in protecting our consumers and creating a stable insurance market," said Sen. Bill Dodd (D-Napa), who represents a wine region that has seen devastating wildfires in recent years.7
Conclusion
While insurers are considering retreating from Florida and California and sourcing new reinsurance providers, hedge funds have stepped in to provide risk transfer and reinsurance services.
The increased rates have resulted in reinsurance and risk transfer becoming an increasingly popular strategy for hedge funds. Functionally, reinsurance is like fundamental credit analysis, considering risks and assessing whether the income you are receiving is adequate considering the level of risk you are taking. In this case, the risk is the underlying insurance policies. Reinsurance and risk transfer are attractive strategies for some multi-strategy hedge funds, not just for the returns but also for the diversification of those returns. The return from reinsurance and risk transfer tends to not be correlated with other market events.
Our platform includes managers who have been legacy investors in the reinsurance industry (and in some cases, wholly own reinsurers). These funds have established capabilities, expertise, and sourcing networks in the reinsurance industry.
Sources:
Learn which funds on our platform actively invest in the insurance market.
For registered investment advisors only.