Published on October 26, 2023
Investing in IPOs. Is it the Right Time?
After increasing at a fever pitch in 2020 and 2021, demand for IPOs fell off during 2022.1 This year, hopes of a revival began with several new high-profile listings, but the share prices of many of these firms quickly retreated to below the initial listing price. And now, valuation challenges and the specter of higher interest rates have many companies waiting on the sidelines. Is it the right time for IPOs?
Investing in IPOs
Prodded by excessive media attention, many investors view investing in IPOs as a way to cash in on the latest hot craze. Until recently, access to these investments was extremely limited, with most shares going to institutions. While the market has opened a bit, high minimums, excessive demand, and limited supply are obstacles many retail clients face while institutions grab all the shares.
But does the performance of investing in an IPO live up to the hype? Historical performance has shown otherwise: the S&P U.S. IPO index has historically underperformed the broader market over both the short and long term.
In 2022, there were 181 initial public offerings, and just 25 of those posted positive returns. Even after three years, the majority of IPOs underperformed the market.
Performance of Major IPOs from 2021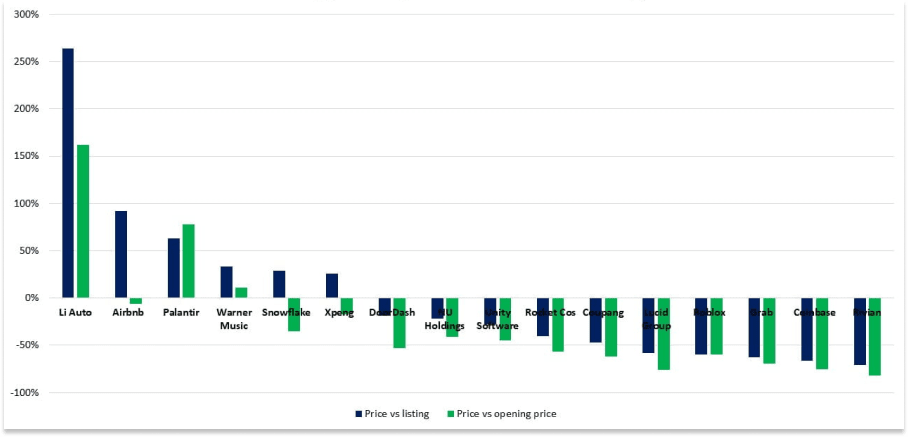 IPO Activity
In 2021, an ultra-low interest rate environment due to the pandemic pushed IPOs to their highest level ever — both in the number of deals as well as the capital raised. However, eleven rate hikes by the Federal Reserve to rein in inflation decreased IPO activity dramatically. Indeed, 2022 saw the lowest money raised in two decades.
Value of initial public offerings (IPOs) in the United States
from 2000 to 2022 (in billion U.S. dollars)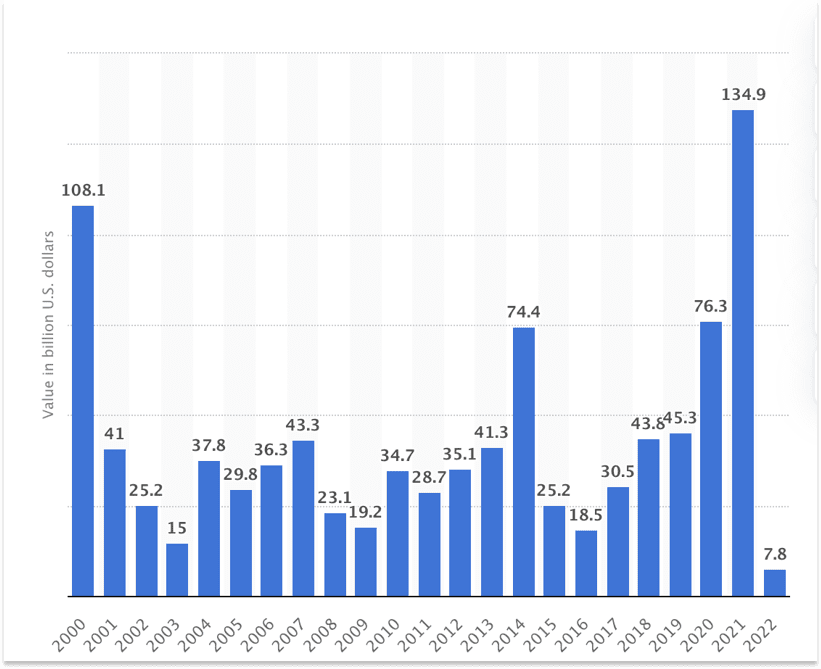 Source: Statista, Value of initial public offerings (IPOs) in the United States from 2000 to 2022
Major IPOs of 2023
However, there seemed to be somewhat of a revival in 2023 as a number of larger, highly recognizable names executed their initial offerings. British chipmaker Arm Holdings, marketing automation platform provider Klaviyo, delivery app Instacart, and Mediterranean restaurant chain Cava are all listed. But only Cava and Klaviyo are trading ahead of their listing price.
| | IPO Date | IPO Price | Price as of 10/13/2023 | Return |
| --- | --- | --- | --- | --- |
| | May 4 | $22 | $19.37 | -12.18% |
| | Jun. 14 | $42 | $32.67 | 42.23% |
| | Sept. 14 | $51 | $50.12 | -0.94% |
| | Sept. 19 | $30 | $25.49 | -16.00% |
| | Sept. 20 | $30 | $32,23 | 10.07% |
| | Oct. 11 | $46 | $36.02 | -19.46% |
Source: Stock Analysis, 10/13/2023
Birkenstock (BIRK) — the 249-year-old casual shoemaker — is the latest IPO of the year and the first of the fourth quarter. Backed by the private equity arm of Bernard Arnault, owner of luxury giant LVMH Moet Hennessy Louis Vuitton, Birkenstock sought to raise over $1.5 billion in capital. But while Birkenstock priced its IPO at $46, at what was perceived to be safely in the middle of its target range, shares closed down on the first day of trading.
IPOs by Sector
In contrast to prior years, there has been a wide divergence of activity sector-wise. Pre-Covid, the healthcare space dominated IPOs. However, there has been a sharp drop-off. Not surprisingly, tech IPOs led in 2023.
Arm's September debut opened speculation for AI IPOs — most notably OpenAI, Anthropic, and Scale AI. However, there are no known concrete plans for any AI IPOs in the near future. OpenAI's CEO Sam Altman has publicly stated that he is not interested in an IPO and that the firm is "likely to make some decisions that most investors would look at very strangely."
Investing in IPOs Outside of the U.S.
What does the landscape for investing in IPOs look like outside the U.S.? Activity is robust in Asia Pacific, which saw 195 deals in the third quarter, for a total of $20.6 billion, as opposed to just 36 in the Americas. Interest in emerging markets has substantially increased as these countries witness faster economic growth compared to developed countries.2
Through the third quarter, China was the largest single-country IPO issuer, besting the United States. Indeed, emerging markets are overwhelmingly dominating the IPO scene by both the number of IPOs issued and proceeds.
Besides mainland China and Hong Kong, new entrants include Turkey and Romania. Romanian utility firm Hidroelectrica SA3 raised U.S. $1.8 billion in Europe's largest IPO of 2023. In July, Thyssenkrupp AG spinoff Nucera's4 hydrogen unit raised 2.5 billion euros.
Alternatives to Investing in IPOs - SPACs and Direct Listings
What alternatives do firms have when raising capital? And how have investors fared? Traditional IPOs remain the gold standard, with the number of direct listings and SPACs in 2023 lagging.
Special Purpose Acquisition Vehicles, or SPACs, were a primary reason for the spike in listings in 2021. SPACs operate as shell companies that own no assets. The funds raised are then used to acquire an established business, which then becomes publicly listed. The SPAC itself then "delists." In 2021, there were 613 SPACs. However, at the end of the third quarter, there were only five.5
But while the number of SPACs has decreased, they're not dead. Vietnamese electric vehicle maker VinFast (VFS) went public through a SPAC this year and has become one of the world's most valuable automakers. Following its merger with the U.S.-listed SPAC, VinFast began trading on the NASDAQ and recently announced plans to acquire its battery maker.6
Direct listings are another option companies have when going public and notable firms have included Spotify, Slack, Asana, Palantir Technologies, and Coinbase Global.. But interest has waned in these vehicles, which forego underwriting and lock-up fees. The first direct listing of 2023 was in July, with Surf Air Mobility (NYSE: SRFM) Courtside Group (PODC) following in September.
Shares of Surf Air traded at $5. They plunged during the first day of trading and are now trading at $1.39.
Direct listings offer less transparency into price discovery and a recent Supreme Court case may have provided them a mixed gift. A class action case against the derelict listing of Slack alleged misstatements in the company's stock registration statement and prospectus involving the sale of 118 million registered shares and 165 million unregistered shares — but investors were not aware if they were buying the registered or unregistered shares. The Supreme Court ruled in favor of Slack, but a short-term win for Slack may be a long-term loss if inventors are reluctant to invest in direct listing vehicles.
An IPO Revival?
How does the current macroeconomic environment portend for investing in IPOs? Deals paused in 2022 and stalled further in 2023 as the era of cheap money ended, making fundraising harder and more costly.
Looking ahead, Vietnamese internet company VNG Ltd7 delayed a $150 million U.S. IPO until next year due to volatile market conditions. The firm, founded in 2004, was Vietnam's first unicorn, valued at $1 billion or more.
According to investment firm Goldman Sachs, the IPO revival is coming — but it may not be in 2023. Per the firm's IPO Issuance Barometer, which measures the overall environment for IPOs, the trend is upward.
The index skyrocketed from seven last September to a current reading of 93. A level of 100 indicates the typical frequency of public debuts. Other names that could possibly throw their hat into the IPO ring in 2024 include retailer Fanatics, software firm Waystar Technologies, and payment processor Stripe.
IPO activity has been relatively muted this year
Excludes SPACS, spin-offs, and deals with <$25 million of gross proceeds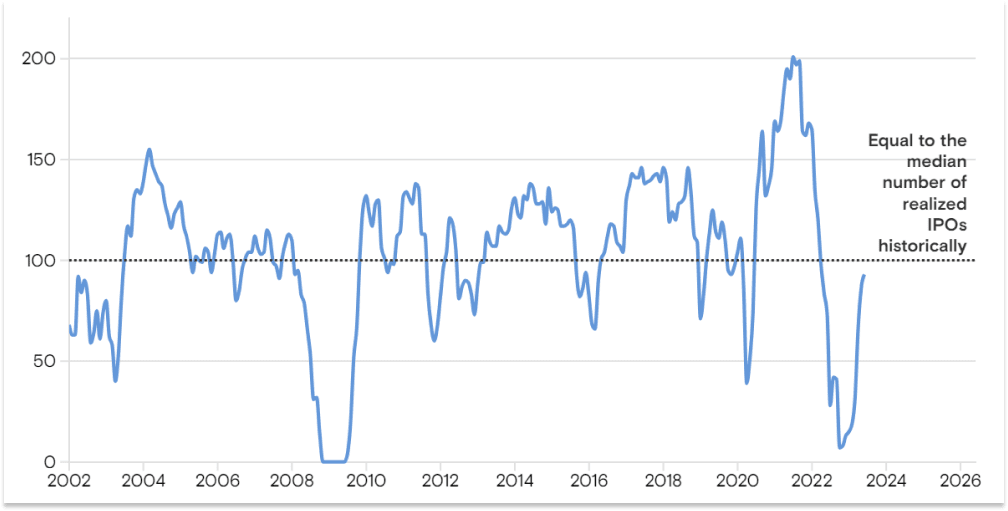 Source: Goldman Sachs, The Economic Backdrop for IPOs is Improving
The Future of Investing in IPOs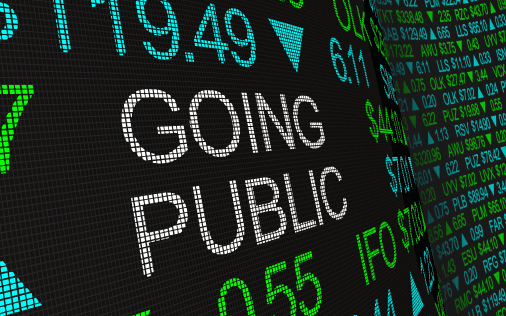 Following two years of near-stagnant activity, the IPO market looks to be on a recovery trajectory. But not every IPO is a winner, and increasing geopolitical risk and macroeconomic uncertainty are additional factors to consider.
The IPO landscape is slowly shifting as businesses begin to reconsider going public. Higher interest rates are leading other forms of funding to dry up or become more expensive, while venture capitalists look to benefit from the current market landscape by selling shares through an IPO. But valuation prices are tricky, as IPOs this year have proven.
Investing in this market requires professional management and guidance. Individual investors are looking for access to investing in IPOs. However, given the risk surrounding new issues, due diligence and professional guidance are a necessity.
Sources:
Learn about private equity managers
that are navigating the pathway to IPO.
For registered investment advisors only.