Published on February 22, 2022
The Rise of Venture Capital Investment in Southeast Asia
Walter Wriston, former chairman and CEO of Citibank, stated, "Capital goes where welcome, and stays where well treated." Capital in this sense is linked to three pillars – ideas, entrepreneurs, and investment. A phenomenon that has been observed in recent years is the growing venture investor appetite in the Eastern hemisphere. The appetite is directly associated with the exciting technology landscape blossoming in Southeast Asia. Investors with a desire to diversify away from China and India are finding safe havens in the broader ASEAN region, supported by attractive sociodemographic as well as government regimes welcoming outside capital to help build both tangible and intangible infrastructures. Venture capital is penetrating these nascent markets, funding growth opportunities in Southeast Asia's vast technology ecosystem. In this insight, we'll explore investing in Southeast Asia in greater detail, first by defining the market, investment opportunities, and lastly, the risks associated with the space.
Defining Southeast Asia
Southeast Asia is largely recognized as the area between India and China. This territory is comprised of "mainland" and "island" zones. The mainland region includes Burma, Thailand, Laos, Cambodia, and Vietnam. For the island zone, the region refers to Malaysia, Singapore, Indonesia, the Philippines, Brunei, and the new nation of East Timor (formerly part of Indonesia).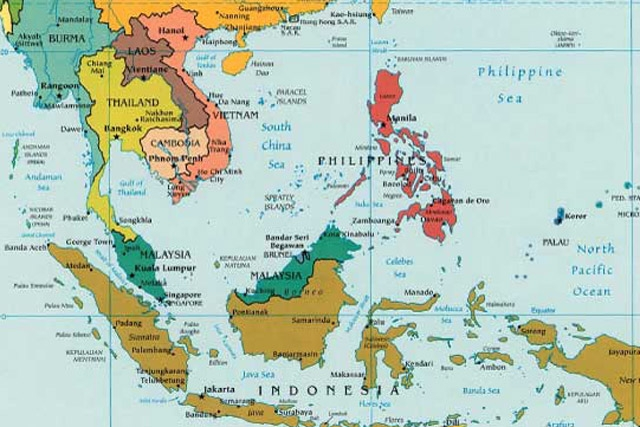 Source: Asia Society
According to the World Bank, in 2019, Southeast Asia reported a combined GDP of $3.2T, making it the fifth-largest economy in the world behind the US, China, Japan, and Germany. Roughly 96% of the region's GDP is produced by Indonesia, Thailand, the Philippines, Singapore, Malaysia, and Vietnam. In terms of fastest-growing economies, Vietnam reportedly experienced 7% GDP growth for 2019, followed by the Philippines with 6% and Indonesia with 5%. Per the World Bank's reporting, Vietnam posted GDP growth in 2020 amidst the pandemic when other countries struggled to do so. Within this region lie countries at different economic stages. For example, Singapore has a GDP per capita of $65.23k, compared to Myanmar, which is at $1.4k, reported as of 2019.
The total population for the Southeast represents approximately 655 million people, which if the Southeast were one nation, it would be the world's third-largest population. This population is notably characterized as diverse, home to more than a dozen languages across the region, and each country is governed with its own political, legal, and economic system. The region is relatively young, with the median age at 30.2 years, and contrasts to other Asian countries such as China, Japan, and South Korea, which are facing a growing aging population.
This youthful population is helping drive digital adoption in the Southeast, which has reached about 400 million, estimated to be roughly 70% of the population. This digital adoption occurred about 5 years earlier than originally anticipated, according to studies, and was partially accelerated by the COVID-19 pandemic pushing users to move online.
Sources:
Mercer, June 2021, Venture Capital Southeast Asia: Plenty of fish in the S.E.A., Private Market Insights.
World Bank, November 2021, The World Bank In Vietnam
Venture Capital Investing in Southeast Asia
Venture capitalists investing in Southeast Asia point to the region's rising internet economy and its favorable demographics for growth. Southeast Asian startups secured a record $25.7B in funding for 2021, more than doubling the $9.4B raised in 2020, as global investors are attracted to the region's potential amid the COVID-19 pandemic-driven digitalization. The number of businesses and seed investments has increased in part because of government subsidies, incubators, accelerators, universities, and a rising pool of angel investors and smart entrepreneurs. Some of these businesses have developed domestically, while others have expanded regionally, and many have raised rounds of capital. Amit Anand, the founding partner of Singapore-based Jungle Ventures, one of Southeast Asia's oldest VCs, contends that "VC investment has grown 5.2x between 2015 and 2020 [in Southeast Asia], compared to [a] 1.4x increase over the same period in India and China. The first half of 2021 itself has overtaken all of 2020 for VC investments in Southeast Asia at roughly $10 billion."
Government support for foreign investment can prove to be helpful for attracting venture capital funding, as seen in Singapore's rise as the startup hotspot for the region after announcing supportive government assistance. The Singaporean government provides 70% of funding to emerging technology startups seeking an initial investment round of S$250k. After the initial round, the government matches S$1 for every S$1k invested by private investors up to S$2M.
Sources:
Forbes, October 2021, The Venture Capital Boom In Southeast Asia: The Best Is Yet To Come.
Deal Street Asia, January 2022, 'Gold rush': ASEAN startup fundraising more than doubled in 2021.
Mercer, June 2021, Venture Capital Southeast Asia: Plenty of fish in the S.E.A., Private Market Insights.
Startup Decisions, Startup Grants & Funding Sources in Singapore.
As discussed earlier, the COVID-19 Pandemic pushed faster digital adoption in the region. According to a Google report, Temasek and Bain & Co., the Southeast Asian internet economy grew to $105 billion in 2020, up from $32 billion in 2015. This digital adoption is leading consumers to develop new habits, such as the preference for online engagement, which is expected to continue in the long run. For those investing in Southeast Asia, experts note that following trends such as healthtech, e-commerce, and fintech are picking up in 2022.
Healthtech
Healthtech was a focus for venture capital firms, mainly from the pandemic highlighting the importance of accessible healthcare. Singapore and Indonesia have received the bulk of the funding within healthtech. An example of healthtech investing is in the Indonesian telemedicine platform, Halodoc. Halodoc has used its digital platform to provide more healthcare services and found they were able to service about 80% of patients at home. This technology was used to help alleviate the heightened demand for healthcare during the pandemic. Halodoc looks to use its platform to scale healthcare resources efficiently and rapidly across a rapidly growing population with one of the world's lowest healthcare professional ratios.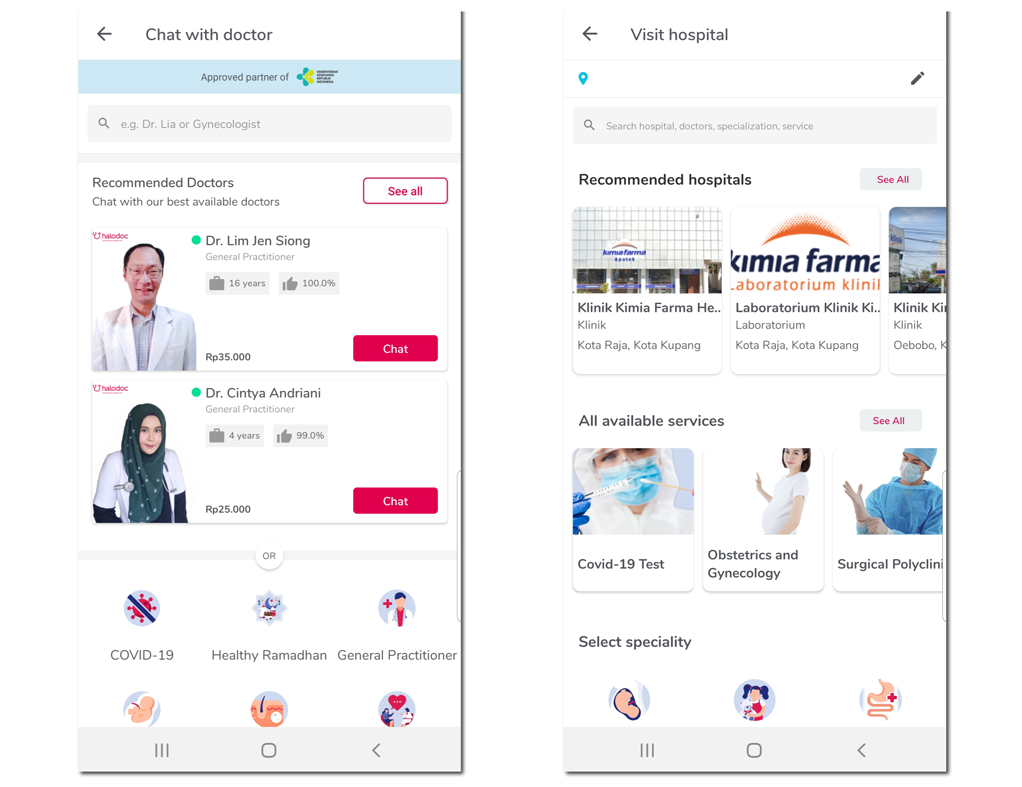 Sources:
Mercer, June 2021, Venture Capital Southeast Asia: Plenty of fish in the S.E.A., Private Market Insights.
Tech Crunch, December 2021, Southeast Asian startups to watch in 2022.
Mobi Health News, May 2021, Indonesian health tech startup Halodoc scores $80M in Series C funding.
E-Commerce
Given the rise in digital adoption, e-commerce has attracted the interest of those investing in Southeast Asia. E-commerce startups have positioned themselves as an aggregator of smaller brands. Two e-commerce aggregators, Una Brands and Rainforest, debuted in 2021 with their first rounds of venture capital funding and a few months later, received follow-on investments.
Una Brands is a Singapore-based e-commerce brand acquirer, which helps local brands through acquisitions, capital injections, and operational support, and differentiates itself as being "sector-agnostic", spanning across furniture, beauty, pets, and sports. Since the company's launch in early 2021, the company has raised $55M in funding. Rainforest, on the other hand, focuses on Asian Amazon sellers and distinguishes itself by focusing on consumer goods and hoping to become a consumer goods conglomerate like Newell Brands, the owner of brands like Rubbermaid, Mr. Coffee, and Yankee Candles. As of September 2021, Rainforest had closed on $55M in financing in pre-Series A and Angel funding rounds.
Una Brands co-founders, (left to right) Tobias Heursch, Kiren Tanna, and Kushal Patel.
Sources:
Tech Crunch, December 2021, Southeast Asian startups to watch in 2022.
Deal Street Asia, December 2021, SG-Based e-commerce aggregator Una Brands sets aside $35M for Indonesian Brands.
Newell Brands, January 2022, Our Brands.
Tech Crunch, September 2021, E-commerce aggregator Rainforest raised $20M just months after its last funding.
Fintech
Fintech investing in Southeast Asia is seeing opportunities within the small to medium-sized enterprises ("SMEs") market. Indonesia is home to more than 62 million SMEs, which is likely higher given the figure doesn't account for family-owned or solo businesses. Experts note that many of these SMEs still use Excel or even paper ledgers for their bookkeeping, presenting an area of disruption to implement technology.
Most notably, two competing bookkeeping applications, BukuWarung and BukuKas, both raised considerable amounts of money in 2021 and are projected to continue to grow. BukuWarung raised $60M in a Series A round with an estimated valuation of $225-250M as of June 2021. For BukuKas, the company raised $50M in Series B financing and reported having onboarded roughly 6.3 million businesses as of May 2021.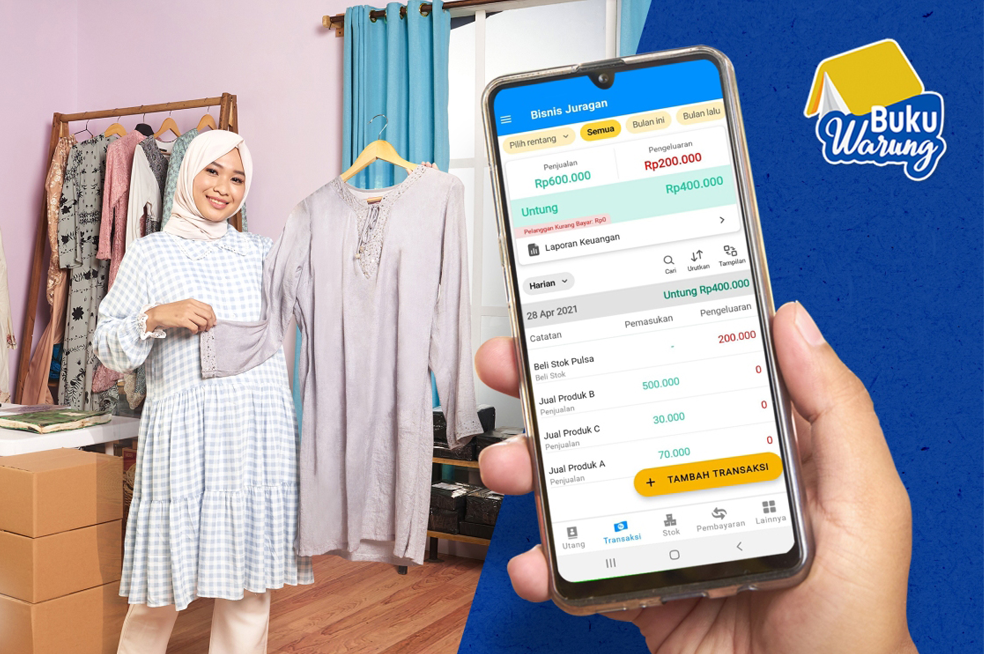 The two startups are similar in that they are initially focused on helping SMEs digitize, but they plan to expand their product lineup to include financial services. For example, the companies plan to leverage the data collected from customers in their software to assess creditworthiness for working capital loans.
Sources:
Tech Crunch, December 2021, Southeast Asian startups to watch in 2022.
Tech Crunch, June 2021, BukuWarung, a fintech for Indonesian MSMEs, scores $60M Series A led by Valar and Goodwater.
Tech in Asia, May 2021, From bookkeeping to SME neobank, BukuKas raises $50m in series B round.
Challenges of Investing in Southeast Asia
As with any investing opportunity, returns are followed by risks. The risks of investing in Southeast Asia revolve around the region's nascent private market. Southeast Asia has a mix of countries with developed economies, as well as those with budding economies, such as Cambodia, Myanmar, and sections of Vietnam, Thailand, and Indonesia. These developing economies are more susceptible to corruption given the lack of robust infrastructure and regulatory framework.
Given private market investment is still new to the region, we've seen limited exit options in Southeast Asia compared to other markets such as the US and China. Unlike China, where IPOs are the most common exit strategy, Southeast Asia has seen few tech IPOs to date, and many exit plans revolve around M&A. However, as capital inflows increase and the market becomes more established, more companies will look to IPO in the region.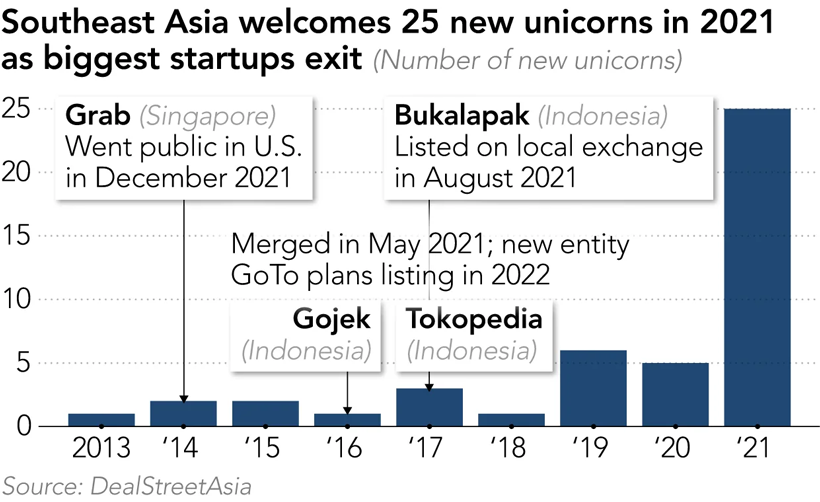 Nick Nash, managing partner and co-founder of Singaporean-based Asia Partners, predicts that Southeast Asia is roughly a decade behind China in terms of its VC investment. Nash noted that while China has experienced some backlash from its venture capital investment from its increased government intervention, Southeast Asia is still forming its framework and represents more opportunities for investors.
Sources:
Deal Street Asia, January 2022, SE Asia has 79 open VC funds looking to raise a combined $8B.
Asia Nikkei, January 2022, 'Gold rush': ASEAN startup fundraising more than doubled in 2021.
Forbes, October 2021, The Venture Capital Boom In Southeast Asia: The Best Is Yet To Come.
Mercer, June 2021, Venture Capital Southeast Asia: Plenty of fish in the S.E.A., Private Market Insights.
Conclusion
Southeast Asia represents a diverse, young population that is quickly beginning to adopt digital technology in everyday life and is anticipated to soon be a main player in the developed markets. The region has been experiencing tailwinds of the increased adoption, partially accelerated by the pandemic, which has brought in more interest from investors looking to fund the startups aimed at digitizing antiquated processes, especially within healthcare, retail, and finance. While the region does hold potential for returns, these returns come with the risk of the region's nascent infrastructure and regulatory framework, particularly in the developing economies in Southeast Asia.
Looking to the future, some investors are excited about the next five years for the region. Hian Goh, the co-founder and partner at Singapore's Openspace Ventures, believes VC investment in Southeast Asia has achieved critical mass. He finds that the region's fundamentals, such as expanding demography and wages, are on a ten-year secular uptrend that will last another decade. Goh notes, "Covid has not only turbocharged digital adoption amongst a wider population, but also the adaptation to new technologies in what had previously been more physically entrenched aspects of our lives—especially health. Taken together, we feel the region is primed for even more accelerated growth."
Source: Nikkei Asia, September 2021, Venture capital doubles down on Southeast Asian tech.
Learn which institutional private equity and hedge funds on our platform are seeking investment opportunities in Southeast Asia and how your clients can participate.
For financial advisors only.