Published on June 10, 2022
The Streaming Wars
As we are embroiled with the fragility of daily life, many of us turn to various forms of entertainment by way of streaming to distract us from the chaos outside. The daily question on our minds is, "what should we watch?"
This question also runs through the media companies competing for our attention. This heightened competition is now being described as the era of the streaming wars, in which the top video streaming platforms like Netflix, Disney+, and AppleTV battle for premium content to gain subscribership and differentiation. Amongst the fierce competition in the streaming wars, one begs to wonder, how is this all playing out?
Source: The Verge. "Streaming Wars"
The Streaming War Playing Field
Major U.S. – Based Subscription Video Streaming Services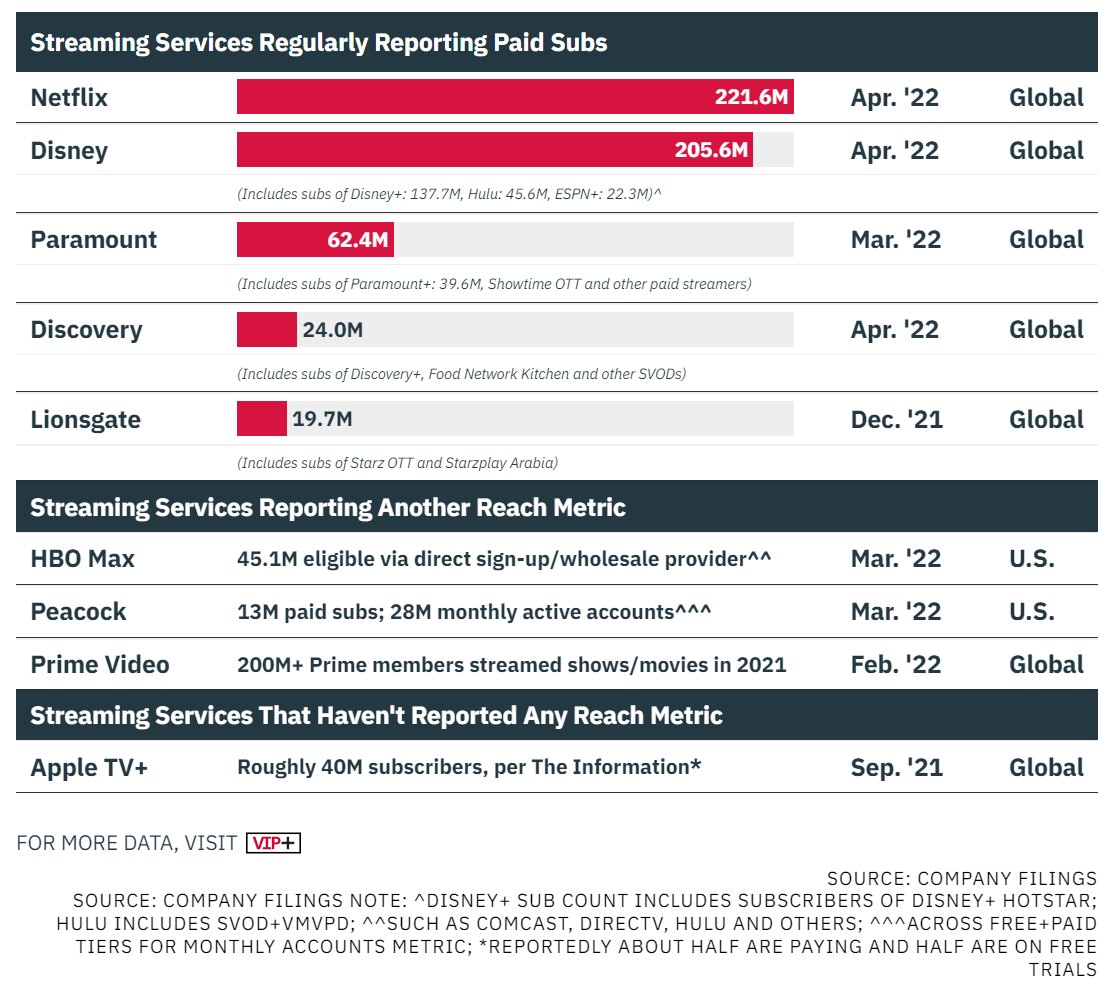 Source: Variety
The streaming wars have been intensifying for years as more media companies shift their focus to video streaming platforms. Whereas in other industries, increased competition leads to companies pushing prices down with lower quality products, the opposite has occurred within the streaming wars. As the competition intensifies in the streaming wars, we've seen companies spend more money on production costs to capture new subscribers through premium content.
Wells Fargo analysts project that production costs may increase 10% in 2022 to $140.5B for the top media and technology companies, raising the barriers to entry within the streaming wars. By 2025, estimates indicate production spending to reach $172B. This increased spending is a product of platforms competing for subscribership, expanding offerings to global markets, and providing additional sports coverage.
Where it stands today, Disney is reportedly the top spender for all content in the streaming wars with projected spending anticipated to reach $33B for 2022, compared to $25B in the previous year. Netflix comes in second in its content spending for the streaming wars, increasing by 13% from the prior year to $19B for 2022. WarnerMedia-Discovery, rounds out the top three spenders for content and anticipates to spend over $18B in content for 2022. The company was recently formed through a merger of two media giants, WarnerMedia, which owns HBO Max and the Turner Network, and Discovery+, home to popular channels such as the Food Network, HGTV, and TLC.
Sources:
IndieWire, March 2022. "From Disney to Peacock: Here's What the Top 7 Streamers Will Spend on Content in 2022"
IndieWire, December 2021. "Warner Bros. Discovery Wants to Be a Streaming Powerhouse, with Theatrical as the 'Top of the Funnel'
Who's Losing Steam in the Streaming Wars?
Both old and new media corporations hoped their investment would be fruitful in capturing viewership. However, they are now discovering that this spending may only go so far as the streaming space is often challenging and unpredictable in this ever-changing landscape.
A startling trend emerging is that some of the top media companies involved in the streaming wars lose money on their video streaming business, given the massive spending required to compete. In the race to be among the top contenders in the streaming wars, the consequent rising production spending is beginning to weigh on certain media businesses, as their stock prices have fallen in 2022 from the previous year. This market decline can be seen as investors looking beyond increased subscribership to other indicators such as churn rate, market dominance, and content spending to measure the success of a company's video streaming business.
Despite its significant content spending, Netflix recently disclosed losing 200,000 users in the first quarter of 2022 and is expected to lose an additional 2 million users in the coming months. The loss of membership has spooked the industry as Netflix is one of the longest and most recognizable players in the streaming wars and could foreshadow a likely outcome for many of its rivals.
Netflix can't chill: The streaming giant is losing subscribers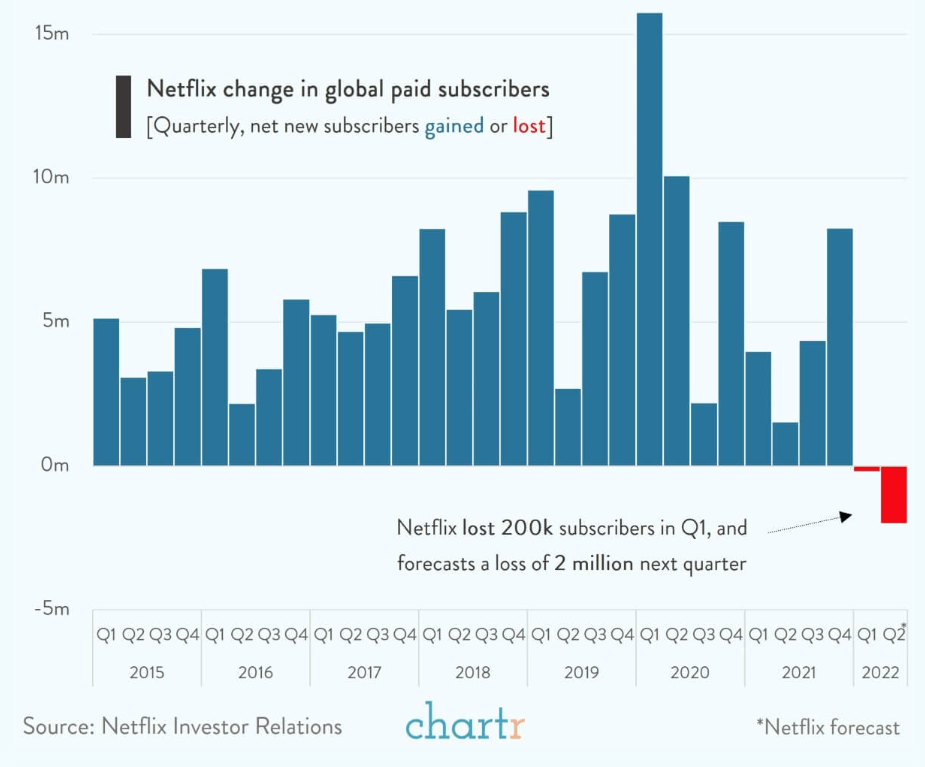 Source: Chartr
Old Media Prevailing in the Streaming Wars?
Old media companies, including the likes of legacy television providers Disney can be seen as newer entrants in the streaming wars, but are gaining ground quickly. It wasn't until 2019, that the television behemoth put its hat into the ring, but in this short time, Disney+ has been active in investment and been able to capture a vast audience base. At inception, Disney's initial goal for the platform was to reach at least 60 million subscribers in its first five years. That goal was achieved in less than 12 months.
Streaming Wars: Disney takes another step towards Netflix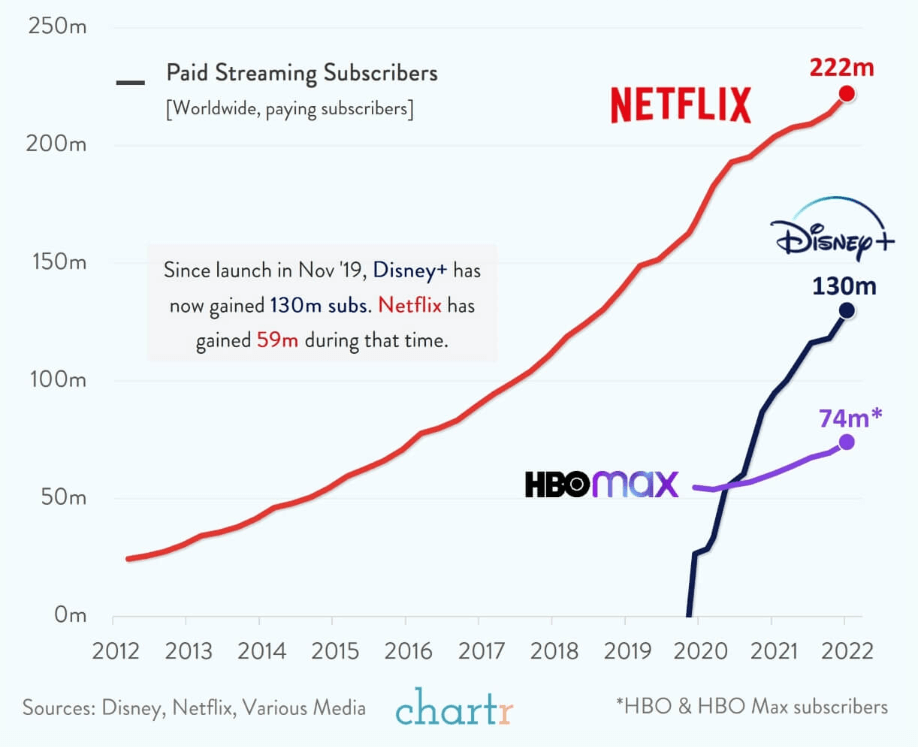 Source: Chartr
Disney's massive investment for 2022 includes funding for ABC, ESPN, and other traditional cable networks, as well as its film business, animation operations with Pixar and Disney Animation, and four streaming services (Disney Plus, Hulu, ESPN Plus, and international service Star). While their investment may be steep, the company needs to support existing content on its legacy media platforms while also providing investment for original content in its streaming operations.
If content is still king, that could prove to be a crucial selling point as consumers consider which subscriptions are most worth keeping as they face continued inflation and a potential recession. Wells Fargo, for one, projects Disney+ will surpass Netflix's share of the subscribing audience in 2024. Still, Disney+ will face challenges of its own as it seeks to grow viewership in this competitive industry. The competition between these streaming giants will be very closely watched in the months and years ahead as Disney+ guns for the top position on the streaming battlefield.
Sources:
Forbes, January 2022. "Streaming Wars Price Tag Continues To Mount, Likely To Top $140 Billion This Year"
Financial Times, December 2021. "Streaming wars drive media groups to spend more than $100bn on new content"
Growth Bottlenecks
Market-research firm, Kantar, reports penetration for subscription streaming services to be at a standstill, with the first quarter of 2022 figure at 81.4% compared to 81.6% in the last quarter of 2021. Kantar suggests that the streaming wars are entering a new phase of maturity. Michael Nathanson, the media analyst of MoffettNathanson, notes, "We are seeing growth in new subscriptions at new services like Peacock and Paramount+ versus the more established services of Netflix, Hulu, Disney+ and Amazon."
The market maturation is forcing media companies and their investors to question the need for massive content spending.
Pivotal Research Group analyst Jeff Wlodarczak suggests, "For media companies, successfully moving from traditional pay-TV to direct streaming is key, and Netflix results imply that with the industry leader already at full penetration, the road to direct will be harder and materially more expensive."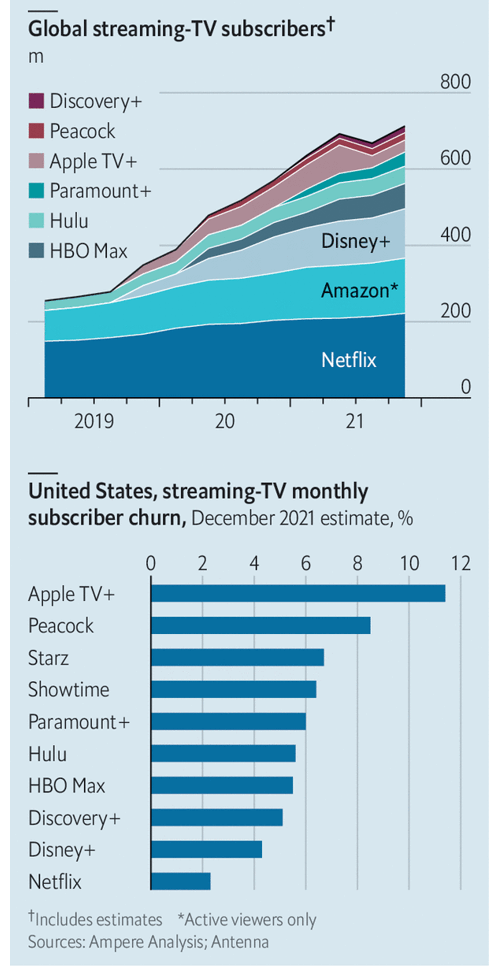 Source: The Economist
The streaming wars have already wreaked havoc on the media industry, with prominent media outlets merging and restructuring their business towards streaming. However, the problem is that no executive knows whether any of these corporate strategies will pay off in the long run. Using Netflix's slowing growth as a cautionary tale, companies wonder what obstacles may be in their fight against the streaming wars.
While streaming platforms blame covid hangover and content delays as the primary issues stunting user growth, analysts are beginning to walk back their egregious projections and coming to their senses that the ceiling for overall subscriptions is lower than they had thought. Netflix, for example, was originally anticipated to log 300M subscribers globally by 2024. After this dismal quarter, Morgan Stanley reckons they will only achieve 260M.
Now the main problem here is preventing the dreaded churn. User attention in this content-driven world has become ever more demanding. As stated by the former strategy Chief at Turner Broadcasting, whereas a cable subscriber would normally cancel their subscription-only when moving homes, the modern user isn't as sticky. Users now have the ability to devour the latest and greatest content and then cancel their memberships with the click of a button once bored with options.
Sources:
Variety, May 2022. "How Disney Can Avoid Netflix's Missteps in the Streaming Wars."
Variety, April 2022. "Netflix Subscriber Woes Suggest Streaming Wars Have Started to Buffer."
Financial Times, December 2021. "Streaming wars drive media groups to spend more than $100bn on new content."
Concluding Thoughts: Pop Culture has become an Oligopoly
The streaming business remains in dicey territory, particularly where Wall Street is concerned, following Netflix's catastrophic correction last month. It's clear that investors are on the watch for a sector-wide streaming slowdown, and the months ahead are likely to see the industry reshaping itself as the Big Red N's all-encompassing dominance starts to wane. With Netflix on the ropes, other companies will be assessing their priorities and rethinking their strategies, as it finally becomes clear to everyone that the model they've been chasing may not be sustainable.
To survive in this cutthroat streaming war, platforms need to increase the consistency and velocity of quality content. One of the key observations at play with respect to churn, could quite simply be the lack of originality that has been displayed across the board. As depicted in the charts below, chart-topping original movies & TV shows have virtually gone extinct. While we all love sequels and spinoffs, subscribers need to engage with fresh content that induces retention. As stated by Adam Mastroianni, we cannot be fed reruns forever!
Movies in the top 20 (by revenue) that are prequels, sequels, spinoffs, remakes, reboots, or cinematic universe expansions
Source: Experimental History, May 2022. "Pop Culture Has Become An Oligopoly"
TV shows in the top 30 (by viewership) that are either:
- spinoffs of other shows in the top 30 that year (e.g. CSI & CSI Miami),
- multiple broadcast of the same show (e.g. American Idol on Monday & American Idol on Wednesday)

Source: Experimental History, May 2022. "Pop Culture Has Become An Oligopoly"
See which third-party funds on our platform have exposure to this highly competitive space.
For financial advisors only.