Published on March 18, 2022
The Future of Remote Work
The pandemic led many companies to adopt a remote work environment, as they are adhering to the new social distancing requirements and healthy safety protocols. However, as we emerge from the pandemic and the world reopens, will the pendulum of remote work swing the other way?
Companies and employees have recognized the importance of onsite attendance, leading some to adopt a hybrid schedule, exemplified in Google's plan for employees to return to the office on a three-day week schedule. However, while some offices embrace the hybrid schedule, there remain companies that seek to be permanently remote. As employer and employee preferences change, how does this impact the current technology investment dedicated to remote work? We explore what money managers are saying about remote work, how to invest in this sector, and what rests in the future for remote work.
Sources:
CNBC, February 2022, Google relaxes mandates, opens amenities as it prepares for workers to return
CNN, January 2022, These companies decided to go fully remote – permanently
Penny for your Thoughts? What Money Managers are Saying about Remote Work
Money management organizations of all sizes are planning to return to a hybrid work schedule, where employees will be in the office a few days a week and working remotely on other days, nearly two years after the outbreak of COVID-19 in the United States.
According to Keith Robinson, managing partner of Focus Consulting Group Inc. in Chicago, most money managers want workers to return to offices at least two or three days a week because of the Three C's: culture, collaboration, and control. He notes, "some firms worry that their culture might deteriorate if workers were all-remote for too long, but we have seen no evidence of this."
Steven Goulart, President of MetLife Investment Management, positions working in the office to the game field. He elaborates, "I played football in college — I can't imagine doing drills alone and then being expected to come together on game day and play our best…Asset management is a team sport, and effective teams need to spend time together, face to face. One of the most important benefits of the office is career coaching and development. If I had been told at age 25 that I would never see my boss in person, I would have found that very discouraging."
Some money managers that are remaining remote had already adopted the virtual office space prior to the pandemic. Chicago-based chief operating officer of Strategic Retirement Partners, Deane Mayerhofer notes, "the pandemic did not change our company's operations at all since we were already primarily a 'virtual' operation from our founding in 2015." Mayerhofer promoted remote work arrangements at the company to be able to select top-tier candidates across a wider talent pool and accommodate their employees' personal needs.
Source: Pensions and Investments, December 2021, Managers say the future of work is hybrid
How does remote work investment look in the future?
As noted above, the future of remote work remains split between some companies keeping their virtual office and others favoring a return to the office. The new technology dedicated to remote work is likely to cater to these viewpoints and provide flexibility for companies looking to stay remote and those that are hybrid or in the office.
Forbes reported on the new wave of remote work and found the following startups to be representative of the emerging preferences of the sector, as people shift towards attending the office:
Hofy: Rental Office Equipment: Founded by Sami Bouremoum, former Bain Management consultant with a Ph.D. in Computer Science the company allows companies to rent the necessary physical equipment for their globally dispersed workforce, catering to those that are looking to invest in their office space.
Rock: All-in-One Productivity Platform: Kenzo Fong, a seasoned Silicon Valley tech veteran, set up to create an all-in-one platform for employees to seamlessly communicate via messaging, task management, and video conferencing. The company looks to cater to a dispersed workforce, but can still be used to those teams that prefer in-office attendance.
OfficeTogether: Office Scheduling for Hybrid: Amy Yin, a former employee at Coinbase, focused on building a tool for a hybrid office structure through a software platform that serves as an office reservation and scheduling tool. OfficeTogether was founded on the belief that remote work isn't for everyone. Yin notes, "flexible spaces for people to meet will be a big part of every company's strategy," and wants to create technology to make flexibility easier.
Sources:
March 2022, Remote Equipment Management – Hofy
PR Newswire, February 2021, Rock Builds A Productivity Platform for Distributed Teams
SNP, September 2021, Think Like A Founder: Podcast with Amy Yin, Founder and CEO of OfficeTogether
Forbes, November 2021, Three Cool Tech Startups That Are Powering The Remote And Hybrid-Work Trend
These startups as well as most of the innovation from remote work technology are coming from private companies. One way to access these private companies and invest in the future of remote work is with venture capital and private equity. Enterprise software startups comprised nearly half of the venture capital dollars for 2021.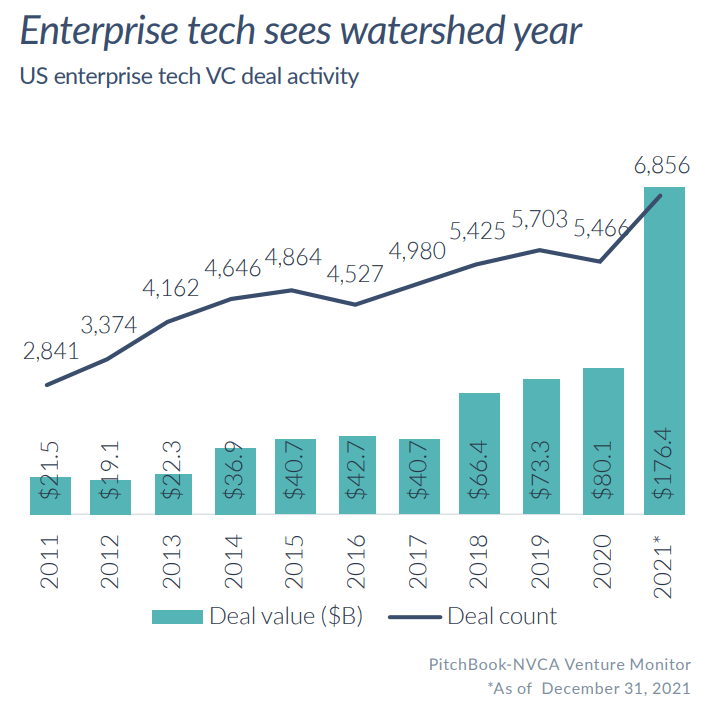 Sources:
Quartz, October 2021, 2021 has already shattered yearly records for startup funding
Pitchbook, January 2022, PitchBook-NVCA Venture Monitor
Future of Remote Work: At Risk?
The future of remote work rests largely on employer and employee preferences, which unfortunately rarely come with certainty and bears a key risk for investment in remote work technology. The risk of changing consumer preferences has been exemplified in the recent sell-off in the video communications company, Zoom. Zoom was once a stay-at-home stock darling in 2020, trading at a high of over $500/share in October 2020 but has since sold off significantly from its all-time highs to its current levels as of ~132/share as of the close of February 28, 2022.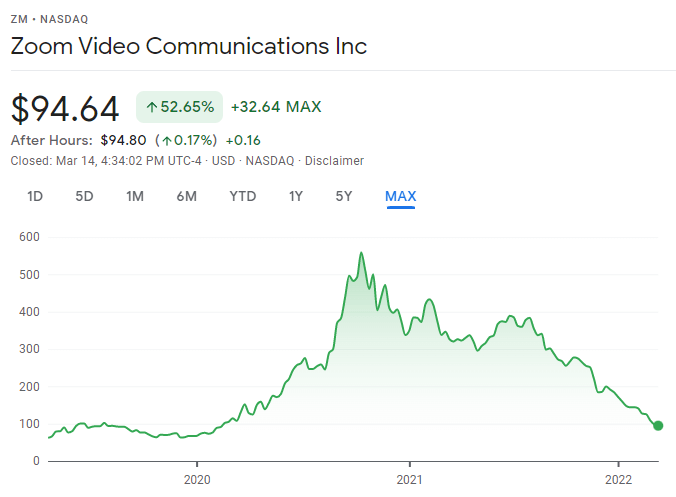 Source: Yahoo! Finance, February 2022, Zoom Video Communications Inc
As the world reemerges from the pandemic, remote work technology faces the risk of not matching consumer preferences. After being remote for over two years, employees are facing fatigue from working at their home office and seeking to return to an office setting. Employers also see in-office attendance to better manage the career development for their employees and focus on in-person collaboration.
The hybrid work environment could be the answer in the "Goldilocks" scenario, offering flexibility for both the employer and employee to manage their schedule for this current environment. However, much like the COVID-19 pandemic disrupted the idea of in-office attendance, we can see another global health crisis prompting companies to adopt a remote work environment.
Sources:
Business News Daily, December 2021, Communication Technology and Inclusion Will Shape the Future of Remote Work
Forbes, November 2021, Three Cool Tech Startups That Are Powering The Remote And Hybrid-Work Trend
Conclusion
To summarize our thoughts, the recent COVID-19 changed the way that employers and employees see the future of the workplace. While remote work was initially heralded as the future, as the world reopens, companies are understanding the importance of in-person interaction, leading the future of work to most likely be in a hybrid model. As echoed by Keith Robinson from Metlife with the football analogy, companies want to focus on developing the Three C's: culture, collaboration, and control within their organizations. In-person attendance is also necessary to revive the cities that faced an exodus from remote work by bringing more bodies to the local stores and shops to the metropolitan areas. The changing preference from remote to hybrid reveals itself as a threat to remote work technology. Those companies that look to cater towards both remote and hybrid work environments are better positioned to cater towards consumer sentiment, which seems to always swing back to a balance after undergoing extremes.
Learn more about the third-party private equity and hedge funds on our platform that invest in the future of remote work.
For financial advisors only.