Published on November 30, 2021
The Global Energy Crisis and its Potential Downstream Effects
The global recovery from the economic shutdown of 2020 has been faster than many expected.
The chart below illustrates the correlation between liquid fuel consumption and GDP growth. Based on the positive relationship depicted below, analysts can infer that higher economic output typically points to an increased usage of energy products.
Source: EIA.gov
However, there is some doubt as to whether energy production will be able to keep up with demand. Cracks have seemingly emerged across the world as energy consumers grapple with soaring energy prices.
Further complicating this issue, the United States, after briefly becoming the largest energy producer in the world, appears to have slowed fossil fuel production with output dipping below peak levels.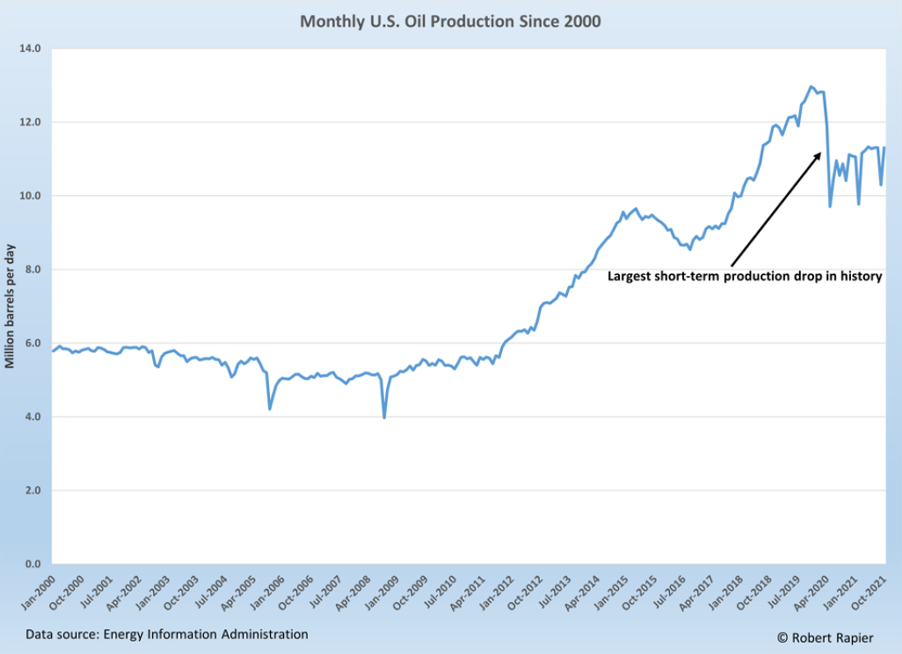 Source: Forbes
Part of the reason why production has slowed is that energy prices collapsed following the Covid-19 shutdowns, which created a negative chain reaction for many oil and other energy-producing companies.
Additional pressure is being exerted on the energy space due to the need to address climate change. We spoke about this factor at length in our piece Going Nuclear: The Future of Uranium.
Source: The Bakers Institute and Forbes, August 2020. "The 800-Lb Gorilla Between U.S. Shale Producers And A Big Comeback: Decline Rates"
Balancing Today's Global Energy Crisis with Tomorrow's
The elephant in the room is that energy prices are currently increasing at an accelerating rate. This price increase is being experienced not only in the United States but also globally. In the UK, several power companies are going out of business because these companies are not able to pass along the rising price increases to consumers as a consequence of the government's regulation on energy prices.
Indeed, energy markets are so tight that Bloomberg reported the following:
"Almost every lump of coal that U.S. miners will dig out of the ground next year has already been sold, as surging natural gas prices prompt utilities to burn more of the dirtiest fossil fuel. Arch Resources Inc., the No. 2 producer, has lined up deals with utilities for all of its 2022 output from the basin at an average price that's 20% higher than current spot prices."
This is all occurring at a time when global leaders are pushing to meet climate change initiatives, like in the COP26 conference at Glasgow.
Javier Blas, an Energy correspondent with Bloomberg, pointed out the competing struggles taking place between global governments leading up to the COP26 Climate Conference due to the surge in prices for energy by way of showing updated drafts on the goals.
Like sausages, the process of making a G20 communiqué isn't pretty. Here's how the wording changed from Fri until Sun on new domestic coal-fired stations, from an immediate stop, to one in the 2030s, to finally a vague voluntary commitment with not date | #COP26 #coal pic.twitter.com/Qyvxd4wPhX

— Javier Blas (@JavierBlas) October 31, 2021
What started as a strong statement to end new investment in coal turned into a vague platitude with little bite.
One of the most acute news stories related to the energy crisis of 2021 was the freezing weather Texas experienced in mid-February. The Dallas Fed wrote "The power outages led to widespread damage to homes and businesses, foregone economic activity, contaminated water supplies and the loss of at least 111 lives. Early estimates indicate that the freeze and outage may cost the Texas economy $80 billion–$130 billion in direct and indirect economic loss."
Sources:
Reuters, October 2021. "Britain faces 'massacre' of 20 more bust energy suppliers, Scottish Power says"
Bloomberg, October 2021. "U.S. Coal Miners Are 'Sold Out' for 2022"
Dallas Federal Reserve, April 2021. "Cost of Texas' 2021 Deep Freeze Justifies Weatherization"
The White House Briefing Room, October 2021
The Global Energy Crisis: No Laughing Matter
The European Union is also experiencing its own energy crisis as a result of rising geopolitical tensions. Nordea, a Scandinavian bank, shows gas flows from Russia to Europe have gone to zero in the recent past at one fuel-processing station.
Poland blames Putin for instigating border crisis

Meanwhile a bit more Russian gas is flowing towards Germany via Poland, but still at VERY low levels.. pic.twitter.com/kxtrZIJBXF

— AndreasStenoLarsen (@AndreasSteno) November 10, 2021
Reuters writes, "Russia showed no sign on Monday of carrying out an order by President Vladimir Putin to pump more gas to Europe, deepening European concerns about tight supplies, high prices, and energy dependence on Moscow as winter looms."
The article also states that Putin ordered an increase in the supply to Europe once Russian domestic storage is shored up.
Energy markets are global. Energy prices are increasing as supply tightens and countries across the world race to ensure they can meet their requirements. With this backdrop, it makes sense that Russia would ensure their supplies are full before exporting to other countries.
This is why a recent interview with the US Energy Secretary raised a few eyebrows.
Jennifer Granholm is the secretary of energy of the United States. The US is reportedly the largest oil-producing country in the world and the energy secretary laughed off concerns that the current US administration was not taking adequate steps to address rising oil prices.
First, she claimed that it's a global market, and thus she has no control. Then she stated that OPEC (Organization of the Petroleum Exporting Countries) controls the market.
What we do know is that the Biden Administration has banned new leases on federal property. He also stopped the construction of the Keystone pipeline.
For one thing, this is a potential lost opportunity for American workers and businesses. But America also has one of the highest environmental and ethical standards for producing just about anything. Asking foreign nations to pick up slack basically ensures fewer regulations and restrictions in extracting natural resources.
Sources:
Twitter - AndreasStenoLarsen
Reuters, November 2021. "Jitters in Europe as Russia shows no sign of increasing gas supplies"
NPR, January 2021. "Biden Hits 'Pause' On Oil And Gas Leasing On Public Lands And Waters"
BBC, June 2021. "Keystone XL pipeline halted after Biden blocks permit"
The Future Still Looks Green, but what about the Present Energy Crisis?
We have painted a grim picture thus far. But the fact of the matter is that climate change needs to be dealt with.
Since our last piece on Nuclear, France has come out and announced that they will build their first new nuclear plants. Emanuel Macron, the Prime Minister, stated:
"To guarantee France's energy independence, to guarantee our country's electricity supply, and to reach our goals -- notably carbon neutrality in 2050 -- we will for the first time in decades revive the construction of nuclear reactors in our country, and continue to develop renewable energy"
On Twitter, author and journalist Michael Shellenberger wrote the following:
The same thing happened in Europe. EU had by 2020 reduced its emissions 26% below 1990 levels, mostly due to replacing coal with natural gas, and closing dirtier coal plants in Eastern Europe, neither of which had anything to do with UN climate agreementshttps://t.co/P0K3dgmI1n

— Michael Shellenberger (@ShellenbergerMD) November 9, 2021
This good news means that the developed nations of the world have been meeting commitments to reduce emissions. The bad news is that some sources of energy that were once abundant are being underproduced, forcing the potential readoption of fossil fuels in various global markets.
Still, markets are looking to answer the problem. Josh Crumb, a former commodities analyst at Goldman Sachs is launching the Abaxx Exchange in Singapore. Abaxx hopes to create the benchmark contract for Liquefied Natural Gas or "LNG" for short. LNG is gas that is compressed into liquid form so it can be shipped over the sea instead of utilizing pipelines. The goal for this type of contract would ultimately be to increase transparency in pricing for natural gas. It could also offer a large-scale alternative source for procuring LNG. Instead of relying on Russia for natural gas, European utilities could sign contracts for future delivery. Mr. Crumb set up this exchange because he calls LNG the bridge fuel to a greener future.
It appears this exchange is sorely needed, because prices are surging in the here and now, and utilities will switch to coal to avoid steep increases in gas.
However, some politicos are in disagreement. Ursula von der Leyen, the President of the European Commission, stated more renewables are needed, citing increasing prices of gas. The issue with this statement is that low prices are unhelpful if there is zero supply when you need it.
Germany recently switched its baseload power from nuclear to renewables. But when the sun doesn't shine and the wind doesn't blow, the industrial powerhouse has been forced to turn to coal.
Energy demand is what's called inelastic. Since energy is considered a basic need, consumer demand is not significantly impacted by price changes. If prices go up, consumers would still demand energy to meet their basic needs. If the carbon emissions that come with coal are necessary, the power will be generated. Otherwise, you could end up like Texas in February 2021.
Additional issues surrounding renewables and electric cars are the stress that they put on the electric grids. Electric vehicles require that additional power be transmitted through the grid, as opposed to delivered to Americans at the gas pump. Renewables offer a different challenge.
Vox, the online media publication, explains:
"Wind and solar complicate management of the grid because they are variable — they come and go with the weather. You can't ramp them up and down at will like you can fossil fuel plants. The sun comes up, you get a flood of power from all those solar panels; the sun goes down, you get none."
These unpredictable surges put stress on the electric grid. While these solar panels and wind turbines have roles to play in the global energy mix, they cannot be relied on for steady streams of power.
Once again, it's worth mentioning all the progress developed markets have made towards meeting the challenge of climate change but sequencing the transition to a greener future is key.
Sources:
Associated Press, November 2021. "France to build new nuclear reactors to meet climate goals (msn.com)"
Reuters, October 2021. "EU's von der Leyen: "We must invest in renewables for more stable energy prices (yahoo.com)"
DW, September 2021. "Germany: Coal tops wind as primary electricity source."
Washington Post, October 2021. "Plug-in cars are the future. The grid isn't ready."
Vox, November 2019. "Clean energy technologies threaten to overwhelm the grid. Here's how it can adapt."
A True Manifestation of an Energy Crisis
Carbon is essential to life. It is plant food. In fact, carbon is such good plant food that when natural gas is mixed with nitrogen, it is used as fertilizer.
With natural gas prices on the rise, typically fertilizer prices follow suit.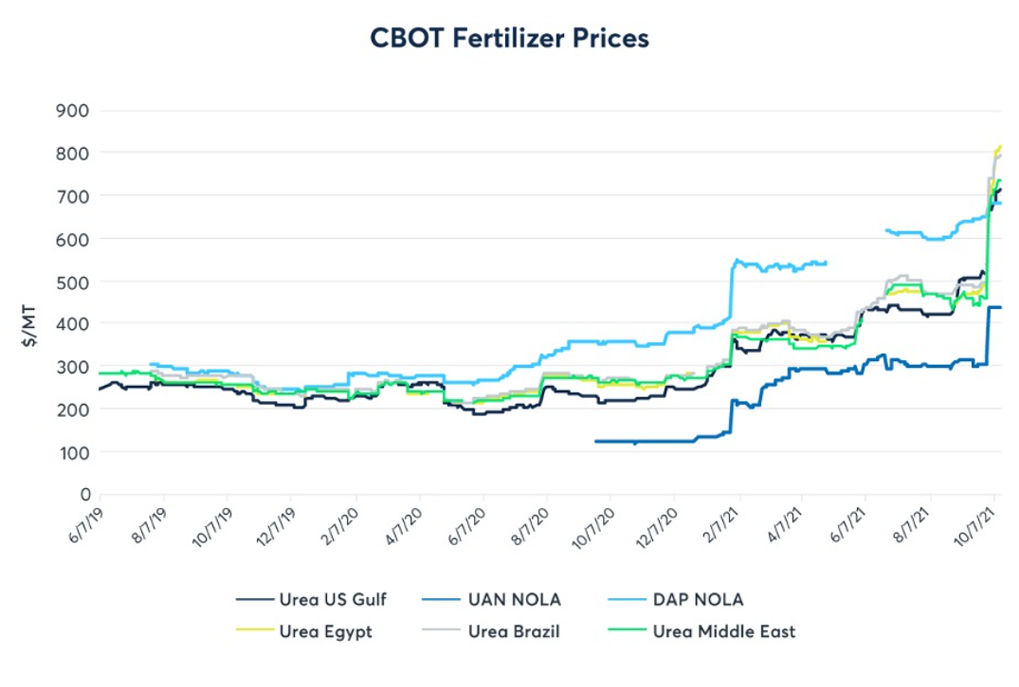 Source: Reuters - As Fertilizer Prices Grow, Farmers Could Face Tough Decisions
The earlier-mentioned Nordea shared the chart below, which shows the correlation between fertilizer prices and wheat.
Get ready for even higher Wheat prices.

Food prices going up further as a lagged consequence of the Nat Gas surge.

Not good news for the average Joe pic.twitter.com/HxhNzmUrJF

— AndreasStenoLarsen (@AndreasSteno) November 9, 2021
Increasing food prices is the stuff of revolution. Literally.
Sources:
MarketWatch, October 2021. "Fertilizer prices soaring as natural-gas rally adds to 'perfect storm'"
High Plains Journal, March 2021. "Natural gas shortage shuts down fertilizer plants"
CME/Reuters, October 2021. "As Fertilizer Prices Grow, Farmers Could Face Tough Decisions"
Conclusion
Energy is the fuel that makes modern civilization possible. Due to fears of climate change, energy companies are often vilified.
Now that energy prices have risen, people are waking up to the reality that, for the time being, fossil fuels are essential. A contingent of U.S. government officials has recently proposed curbing oil exports to combat the rising prices.
However, the energy mix is projected to continue to shift towards greener sources over time. While this transition is all but assured, it is critical that it be sequenced correctly. Poor sequencing in Europe has already led to unintended increases in energy prices.
The energy crisis brings a complex paradigm shift to shutting down fossil fuel platforms and making way for renewables. However, the timing of this shift is an important factor because the shutdown of energy plants could result in a limited supply and higher prices in the interim.
Source: CNN, November 2021. "Oil and gas prices: Senate Democrats urge Biden to consider tapping emergency oil reserves or even ban oil exports to fight high prices"
Learn which institutional hedge funds on our platform are seeking opportunities arising in the energy sector and how your clients can participate.
For financial advisors only.