Published on November 5, 2020
The traditional 60/40 portfolio is largely a relic of the past, according to industry experts
According to a recent article in the Financial Times, the traditional 60/40 portfolio — the mix of equities and bonds that has been the mainstay investment strategy for decades — appears to be obsolete due to the probable underperformance by both of its component parts for years to come.
The forward-looking capital market assumptions from many of the world's leading asset managers and investment consultants imply tepid returns for both components of this asset mix. For example, Blackrock is projecting the forward-looking 10-year annualized return for US Equities and Aggregate Bonds to be 5.8% and 0.08% respectively. This would produce a traditional 60/40 portfolio annualized return of 3.51% over the next decade.
Investors warn that equity valuations are historically high. The forward price-to-earnings ratio for the S&P 500 stands at 21.7 times, according to FactSet, versus an average of 15.4 times over the past 20 years.
For fixed income with interest rates at record lows (near zero) there is generally little room for bond appreciation to provide returns. And with yields below inflation, fixed income as a whole has little to offer to deliver returns going forward.
With stocks at historically high valuations and interest rates near zero, savers are being forced to seek out alternatives. David Kelly, chief global strategist at JPMorgan Funds said, "the standard 60/40 portfolio is not very well suited for today's financial market environment." Investors require a "multicolored pie, that shifts away from [US] bonds and large-cap stocks," he said.
Source: BlackRock. Aug, 2020;Financial Times, Sep 22, 2020. Investors wonder if the 60/40 portfolio has a future
Sky-high debt prices have made it more difficult to hedge against losses should the rally in equities hit a bump in the road. But more importantly, rock-bottom yields are making it harder than ever for pensions, endowments, and other money managers to hit the targets they need to meet their long-term obligations.
"The massive rally in all asset prices is destroying their potential to provide investors a return comparable to those they have gotten used to in recent decades," JPMorgan Chase & Co. strategists led by Stephen Dulake wrote in a report last month.
It is forcing adherents of the traditional 60/40 portfolio to look further afield as they seek returns even remotely close to the near 10% annualized gains they have enjoyed since the 1980s.
Without revamping their portfolios, JPMorgan predicts U.S. investors will barely reach 3% per year over the next decade -- part of what it calls a new "returns crisis."
Source: Bloomberg. Oct 24, 2020. The 40 in 60/40 Portfolios Is Getting Wilder and Wilder
Risks for Bond Investors
A recent Bank of America report cited three major risks for bonds that could undermine a traditional 60/40 portfolio allocation.
One is that low yields translate to less income and make bonds riskier. Lower-yielding investments tend to have more volatile prices.
Another danger is that the stock and bond markets are moving more in sync than historically has been the case, lessening their diversification benefits. In other words, when the stock market drops, bonds might fall too (though probably not by as much).
A third concern cited by Bank of America is that many large institutional investors are heavily concentrated in low-yielding government debt following their lengthy, multi-decade rally to date. When that trend reverses, these big investors could sell out of their bond positions quickly, undercutting prices.
Source: USA Today. Oct 27, 2020. Is it time to forget what you learned about investing in bonds?
The Endowment Model has been a Step Ahead
According to Bob Rice, Chief Investment Strategist for boutique investment bank Tangent Capital, who spoke at the fifth annual Investment News conference for alternative investments - "You cannot invest in one future anymore; you have to invest in multiple futures. The things that drove 60/40 portfolios to work are broken. The old 60/40 portfolio did the things that clients wanted, but those two asset classes alone cannot provide that anymore. It was convenient, it was easy, and it is over. We don't trust stocks and bonds completely to do the job of providing income, growth, inflation protection, and downside protection anymore."
Rice went on to cite the endowment fund of Yale University as a prime example of how traditional stocks and bonds were no longer adequate to produce material growth with manageable risk. This fund currently has only 5% of its portfolio allocated to stocks and 6% in mainstream bonds of any kind; the other 89% is allocated in other alternative sectors and asset classes. While the allocation of a single portfolio cannot, of course, be used to make broad-based predictions, the fact that this is the lowest allocation to stocks and bonds in the fund's history is significant.
Source: Investopedia. Aug 12, 2020. Why a 60/40 Portfolio is No Longer Good Enough
Harvard's New Age "Alternative 60/40 Portfolio"
"Alternative assets served Harvard University's endowment well during the fiscal year ended June 30, 2020," Harvard Management Co. President and CEO Nirmal P. "Narv" Narvekar said in an annual report. The university's $41.9 billion endowment returned 7.3% in "another year in which asset allocation (or risk level) played a major role in returns."
As of June 30, Harvard's endowment has an allocation of 36.4% to hedge funds, 23% to private equity, 18.9% to equities, 7.1% to real estate, 5.6% to cash, 5.1% to fixed income/TIPS, 2.6% to natural resources and 1.3% to other real assets. Hedge funds and private equity, combined, equate to 60% of the portfolio. 40% of Harvard's portfolio is currently dominated by equities with modest real estate and fixed income exposure.
Source: Pensions and Investments. Oct 22, 2020. Risk helps Harvard endowment return 7.3% for fiscal year
Deep Pockets
Ivy League endowments continued to gain in a year upended by the pandemic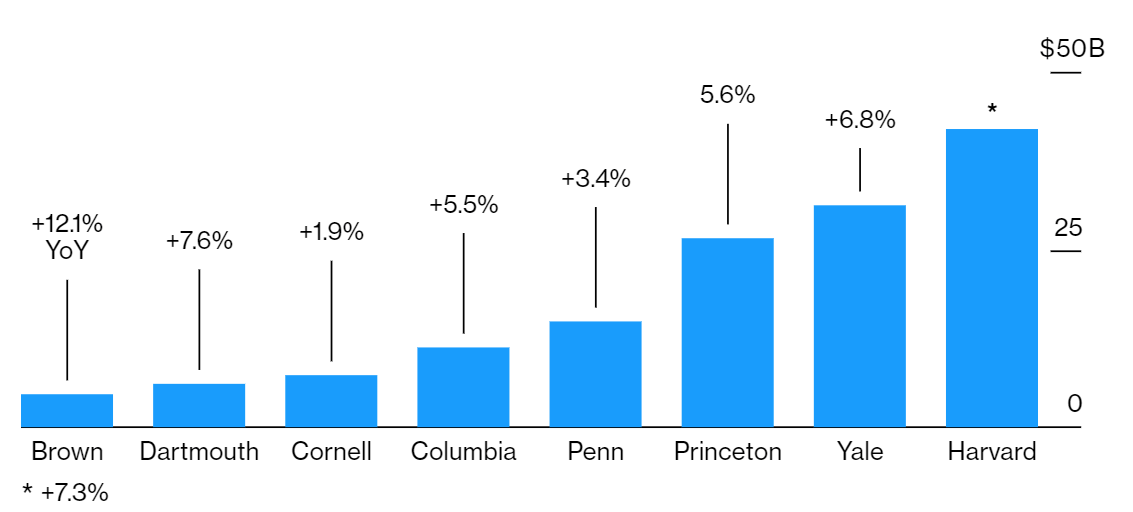 Source: Bloomberg. Oct 26, 2020. Princeton Endowment's 5.6% Gain Driven by Stocks, Private Equity
The Ivy Leagues' Deepening Pockets Abandoned the Outmoded 60/40 Portfolio Gradually and Long Ago
Figure 1 (Panels A and B): Endowment Asset Allocations over the Long Run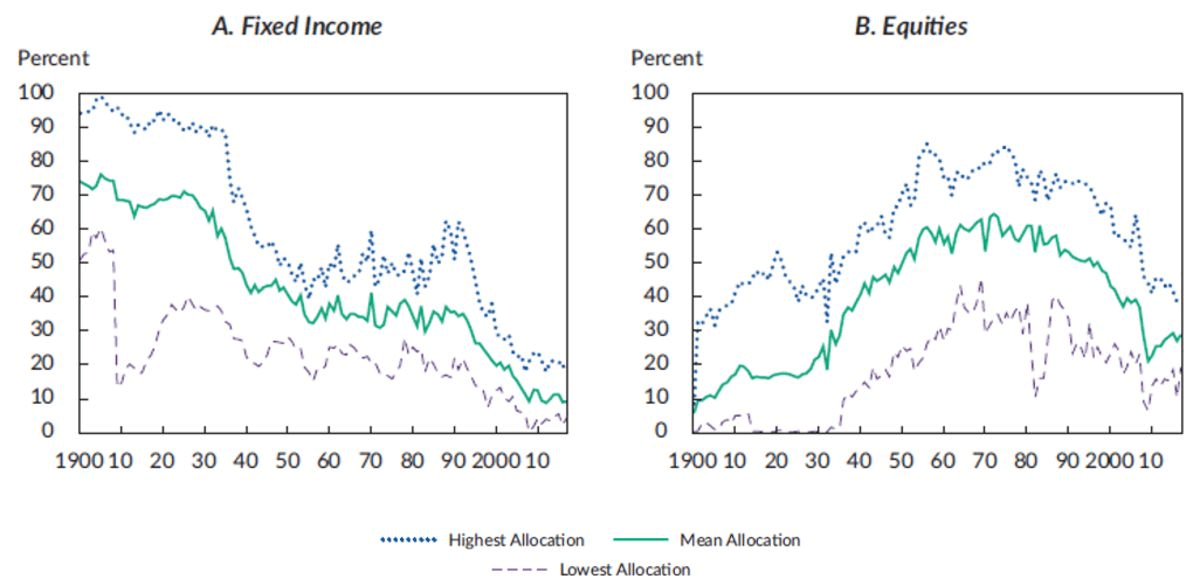 Figure 1 (Panels C and D): Endowment Asset Allocations over the Long Run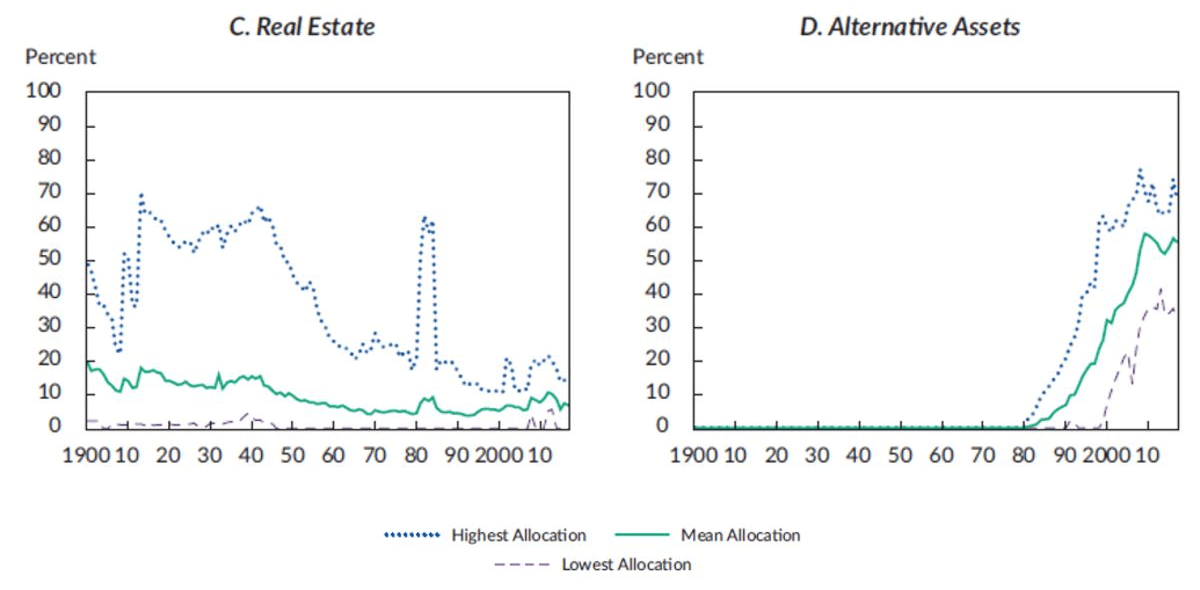 Table 2 (panel B): Endowment Performance and Risk, 1950-2017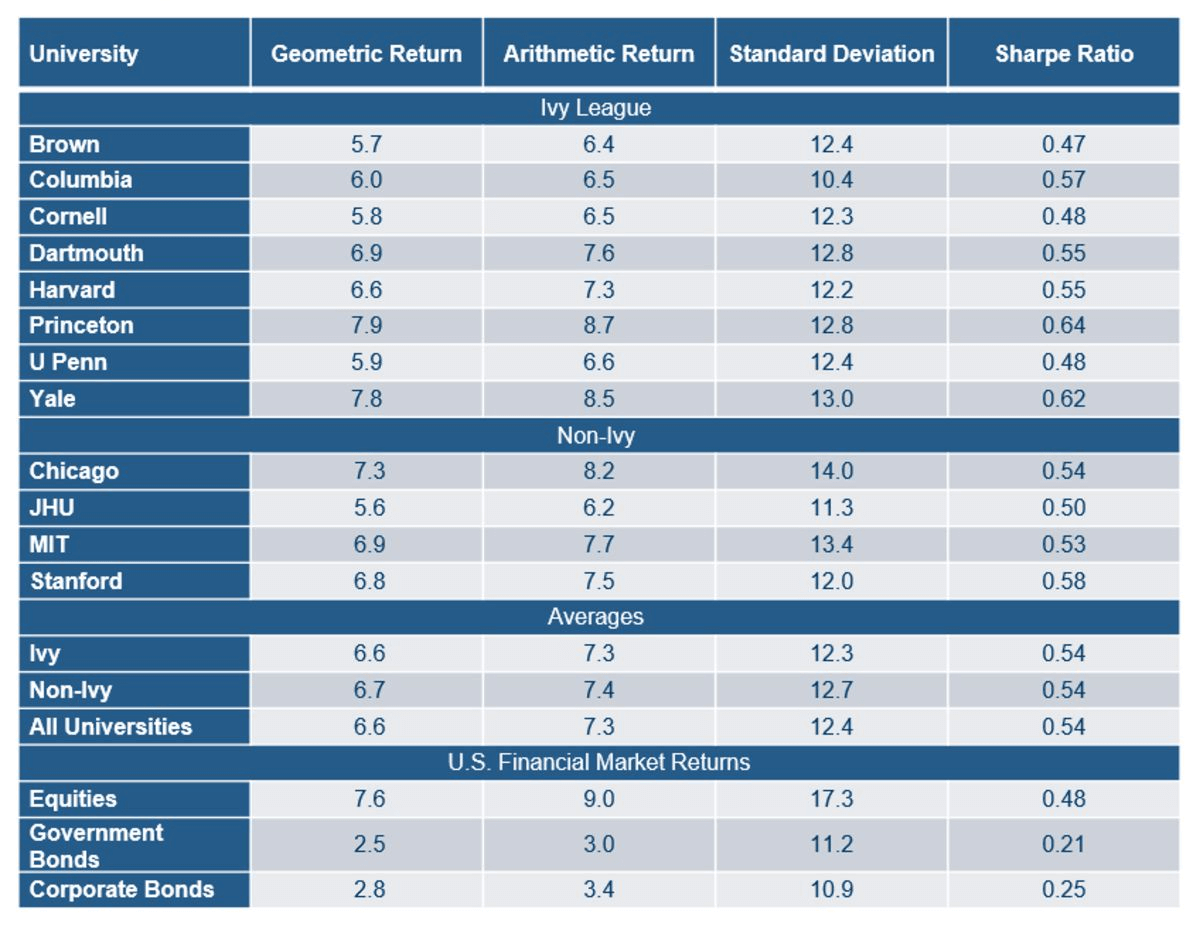 All of these universities managed a Sharpe ratio equal to or better than the risk-adjusted return that would have been available from going long equities throughout the 67 years, with the narrow exception of Brown, which had a Sharpe ratio of 0.47, compared to equities' 0.48. None generated an arithmetic return quite as good as could have been achieved by going 100% long equities; all did far better than government or corporate bonds, which had made up the great majority of their portfolios at the beginning of the century.
Source: Bloomberg. Sep 28, 2020. Endowments' Hedge Fund Bet Has Time on Its Side
Conclusion
The traditional 60/40 portfolio mix of stocks and bonds have served patient, passive investors well over the last several years. However, according to various news sources, the future looks grim for traditional 60/40 portfolios. Institutional private equity and hedge funds may be a viable solution for advisors who are looking to source uncorrelated, skill-based, and non-beta reliant return streams.
Let us show you how adding institutional alternative investments may improve the overall risk-return profile of your clients' portfolios.
For financial advisors only.