Published on September 19, 2023
Uranium Supply Shortages and Nuclear Adoption
Introduction
Nuclear energy is having a moment and with it, demand for uranium has increased substantially. Uranium prices are up 16.52% year over year (as of 8/31/23) and uranium miners have similarly enjoyed great performance. Still, most nuclear professionals have reiterated that there is a huge gap, with demand for uranium far outpacing the available uranium supply, and thus there might be more room for uranium to rally as it still sits well below its previous highs. Bipartisan support of nuclear energy within the U.S. and a clear commitment to increase development of nuclear power from countries like India and China paints a picture that we might be in the early stages of a Uranium super cycle. In this insight, we will first discuss the growing appetite for nuclear energy, and then attempt to understand what this might mean for the price of uranium and where there may be opportunities for investors to invest in this opportunity.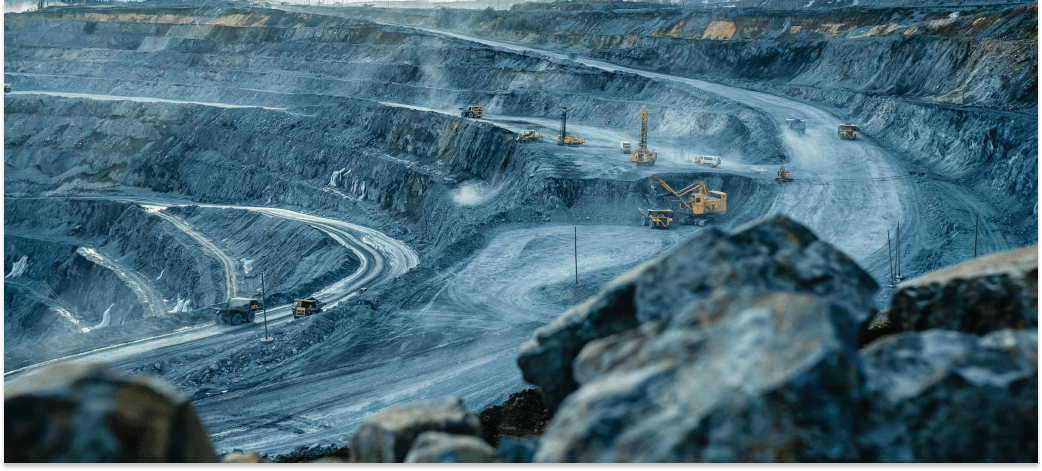 Nuclear Energy Backdrop
Support for nuclear power is broad-based within the U.S. and in many nations abroad looking to secure a cleaner future. While nuclear is not considered a renewable energy source, it produces much less carbon and waste than other nonrenewable power sources.
Looking back, construction of nuclear reactors halted for decades following the Three Mile Island and Chernobyl disasters that occurred in the late 70s and 80s. Following these incidents, there was a groundswell of anti-nuclear sentiment. While this sentiment abated more recently, the Fukushima disaster that occurred in Japan in 2011, caused some European nations, such as Germany and Belgium, to fully pivot away from nuclear, albeit nuclear comprising a small percentage of overall energy consumption in these markets.
Since then, demand for nuclear power has increased, and the trend is largely being led by Asian countries. However, western nations (for the most part) are following suit. For example, China has 21 nuclear reactors under construction which will have a capacity of generating more than 21 gigawatts of electricity, according to the International Atomic Energy Agency. "China is the de facto world leader in nuclear technology at the moment…The Chinese have been pro-nuclear for a long time, but now they seem to have committed to a truly massive scale up to 150 gigawatts in 15 years. And they seem to be on track to meet that goal" Jacopo Buongiorno, professor of nuclear science and engineering at the Massachusetts Institute of Technology, told CNBC.
Similarly, India has the second most reactors under construction with eight reactors under construction that will be able to generate more than 6 gigawatts of electricity. For context, 1 gigawatt is enough to power a mid-sized city. This mass adoption of nuclear power by China and India is not surprising considering the aggressive carbon reduction commitments set forth in the Paris Agreement. Additionally, nuclear generation would allow for China to be more energy independent and less reliant on potentially turbulent oil producing allies like Russia, countries in the middle east and Africa.
Nuclear Power Supply Predicted to Rebound, Led by Asia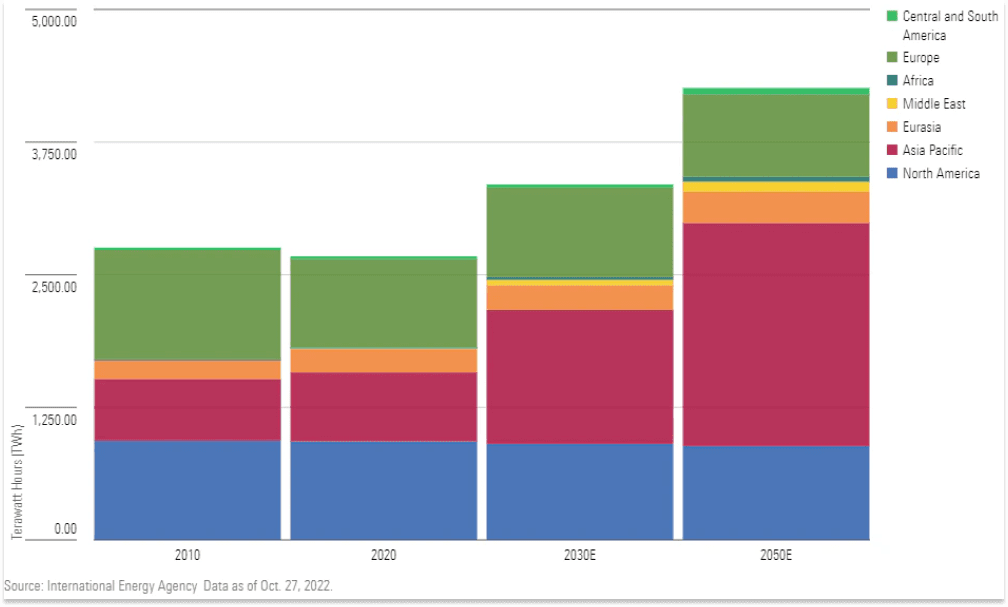 Source: How to Invest in Nuclear Power's Renaissance | Morningstar
While Asia has certainly brought online the most new reactors, there is also active reactor construction in Europe and North America. The United States currently has one nuclear reactor under construction, the fourth reactor at the Vogtle power plant in Georgia, which will be able to generate just over 1 gigawatt, with the expectation that there will be more coming as the 2021 infrastructure bill provided more than $6 billion of federal dollars to build reactors.3
In Europe, Finland just opened a third reactor at their Olkiluoto facility which will eventually produce 1/3 of the country's electricity. Additionally, Britain, Sweden, Poland and the Netherlands are all planning nuclear projects.
It is worth mentioning that there are members of the European Union, like Germany and Belgium, which are opting to phase out nuclear, but even prior to the phase out, nuclear was not a substantial component of the countries' energy mix.11
Overall, there is real momentum behind nuclear energy, and countries are racing to bring reactors online. When these reactors are ready, they will require a key input to creating nuclear fuel, a reliable supply of uranium. Although there is not a shortage of uranium supply, it is not a geographically abundant resource, which can produce geopolitical challenges. Additionally, years of underinvestment when nuclear energy was the black sheep has producers racing to establish new uranium mines to meet the substantial demand.
Uranium Production and its Challenges
Currently, there exists a gap between uranium supply and demand. Based on the amount of new nuclear reactors being constructed, that gap between uranium supply and demand will likely persist. While there is not an immediate threat of uranium shortages, it is also not a widely available resource and the countries where it is actively being produced creates a complicated geopolitical landscape for Western nations looking to expand their nuclear output. According to a recent report from the World Nuclear Association, demand for uranium in nuclear reactors is expected to climb by 28% by 2030 and nearly double by 2040.
Most of the world's uranium is mined in Kazakhstan, accounting for about 40% of the worldwide uranium supply. The uranium is mined by state-owned Kazataprom, the country's national uranium mining company. Kazakhstan has long been a major player in the global uranium market due to its large reserves and low cost of production. Kazakhstan exports around half of its uranium to China, whose demand is likely to grow considering the number of new nuclear reactors being constructed in China. While Kazataprom also exports to many European and North American countries, Kazakhstan's proximity to China and Russia could complicate its relationships with the West.4
Trailing Kazakhstan (by a large gap), Canada, Namibia, Australia, Uzbekistan and Russia rank out as the other top uranium producers.5
Uranium produced in Russia and Uzbekistan has been complicated by the Russia-Ukraine conflict. Currently, the G7 is seeking to push Russia out of the uranium supply chain entirely. In May, a bill to ban imports of Russian uranium moved further through the U.S. House of Representatives. While these measures may not directly impact Uzbekistan, Russia and Uzbekistan maintain an intergovernmental agreement as it relates to their uranium supply and nuclear power, so sanctions on Russian uranium would at least complicate relations with Uzbek producers.13
Finally, in Namibia, China has taken equity in many of the major mining projects, and India similarly is looking to gain a stake in Namibian mining operations to secure a reliable uranium supply for their future nuclear plans. Of the top producers, that leaves Australia and Canada as the most likely uranium partners for Western countries, while the balance presents more complicated geopolitical situations where Western nations would likely have to jockey against India and China to reserve uranium supply.
World Uranium Production and Reactor Requirements (tonnes U)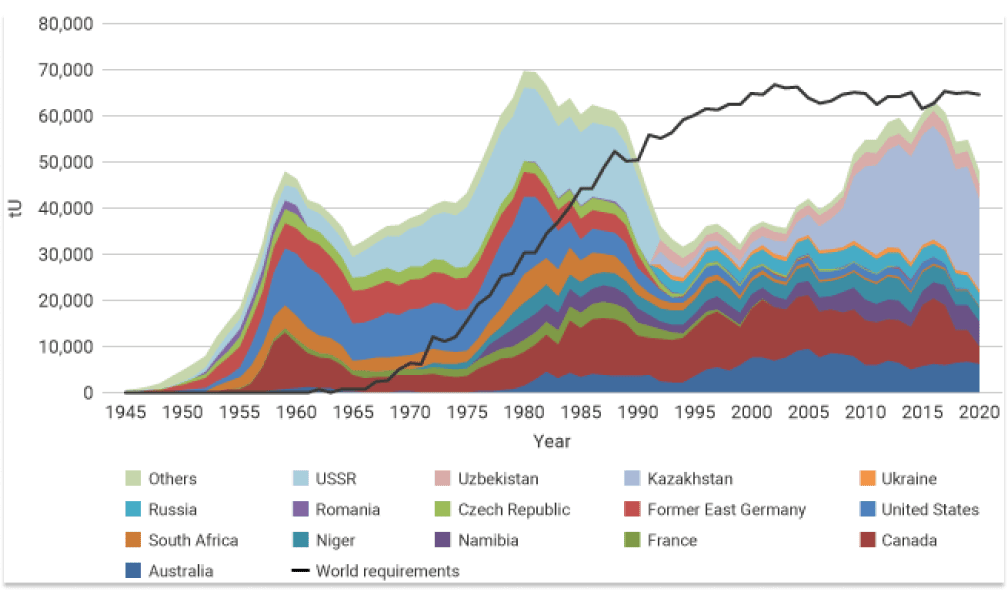 Source: OECD-NEA/IAEA, World Nuclear Association
Source: World Uranium Mining - World Nuclear Association (world-nuclear.org)
Considering the current dynamics of the uranium market, uranium miners have garnered a lot of interest in the markets, with many new thematic ETFs focused on uranium being brought to market and nuclear-focused companies being funded within public and private markets.
Conclusion and How to Think about Investing in Nuclear and Uranium
The backdrop of investment in uranium appears to be bullish. According to Bank of America Global Research's projections from July of 2023, years of underinvestment and a general reevaluation of nuclear power's place in the clean energy transition suggests the recent rally will continue and uranium spot prices could increase 34% by the end of 2025. In a year that recessionary worries have suppressed energy prices, uranium has been an outlier with a strong year-over-year rally.
There are several ways investors can gain exposure to uranium. The most straightforward is through an ETF. There are four major ETFs following uranium miners, and one large exchange-traded trust that directly buys physical uranium.
Additionally, investors can allocate capital to institutional hedge fund managers that look at commodities holistically, developing dedicated strategies across commodities. Finally, there are exciting opportunities in uranium and nuclear within private markets, especially as it relates to nuclear adjacent technologies for example energy storage and reactor operation software. While potentially more speculative in nature, these opportunities could provide significant upside. If you are interested in learning more about what private fund managers are investing in uranium and the nuclear ecosystem on the Crystal Capital Platform, one of our Investor Relations team members would be happy to discuss with you.
Sources:
While public market ETFs and direct stock ownership have been primary means of access to this hot sector, there exists an alternative route to gain exposure to the nuclear theme through a dedicated institutional asset manager.
For registered investment advisors only.