Become a member and view the performance of the institutional private equity funds available on our platform.
View vintage performance, acquisitions the funds have made life-to-date and read the latest manager commentary. Easily add funds to your clients' portfolios by adding them to your 'cart'. Explore our proprietary tools specifically designed for investing in alternatives.
List of Private Equity Funds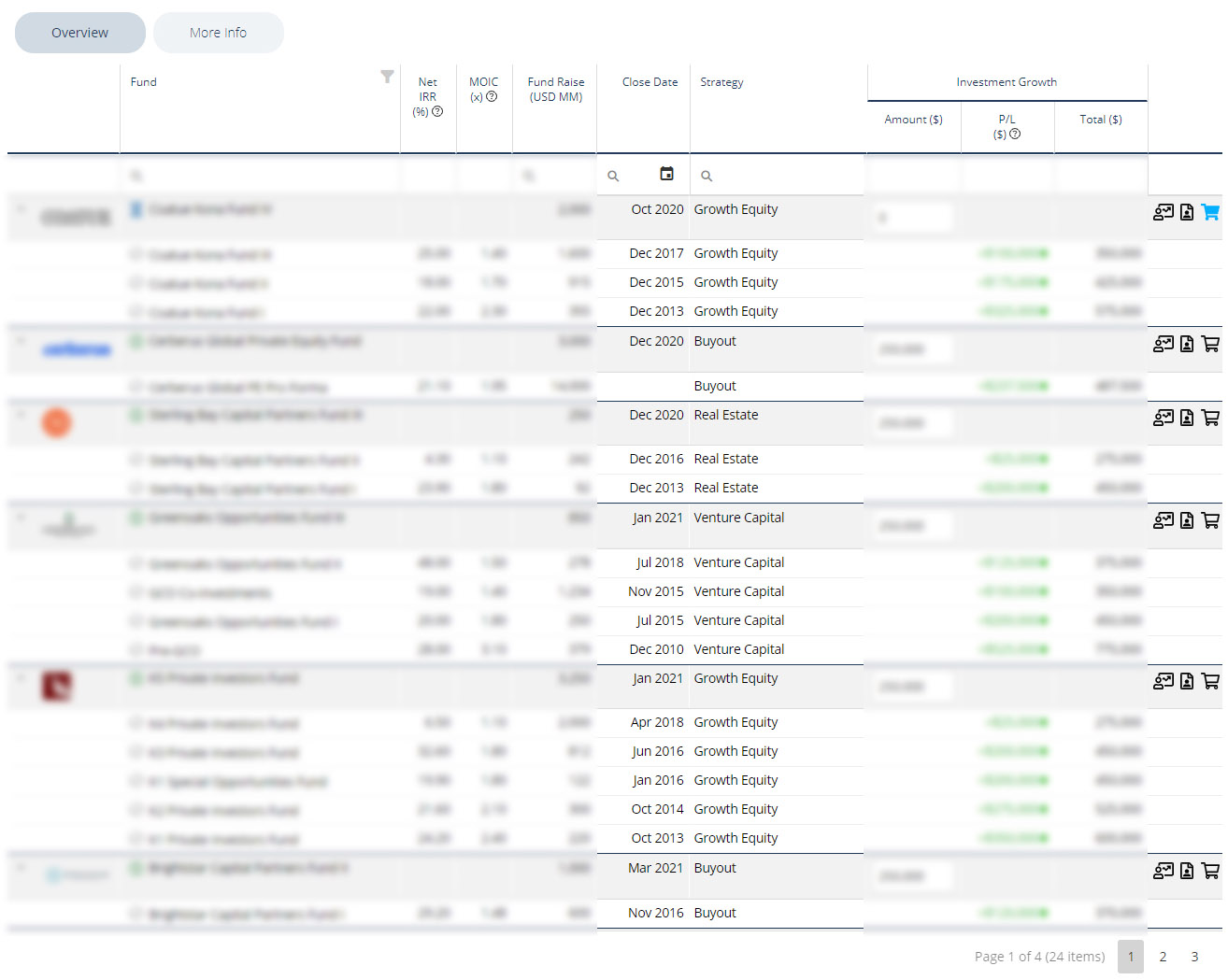 What is an institutional private equity fund?
With 25 years of alternative investment experience, we utilize our expertise and deep network to provide exposure to third-party institutional private equity funds for your clients' portfolios. Our manager selection process is conflict-free, as we are not compensated by any of the managers in the program. We seek to identify firms with a proven track record, a dedicated risk management process, deep teams and institutional safeguards.
$3.41Tn
private equity industry ¹
40%
portfolio allocations to
private investments ²
Gain exposure to
10+
raising institutional private equity
funds who manage
over $600 billion
in industry assets ³
Preqin, 2012 & 2019 Report
According to the latest research conducted by Cambridge Associates, top decile performing institutional investors have doubled their allocations to private investments* in the last 20 years from 20% to almost 40%. Private investments include non-venture private equity, venture capital, distressed securities (private equity structure), private real estate, private oil & gas/natural resources, timber, and other private investments. Source: Cambridge Associates Research Report February 2019.
Private Equity International, The World's Largest Private Equity Firms.
Become a member and start your alternative investment journey.
Our services are designed with financial professionals in mind.